I have macro which is triggered on System Unlock, but recently I noticed that whenever I quit Chrome (double hit Cmd+Q) or whenever a Selenium Script I have quits Chrome, it runs this macro. When I checked the Engine.log I can see that Keyboard Maestro is detecting an 'Unlock Event' which is triggering my macro.

Here are my macro triggers: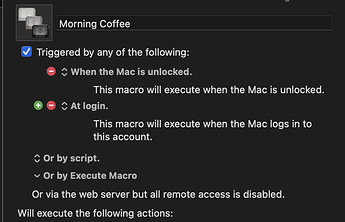 I have restarted my computer a few times but no luck.
I'm running Keyboard Maestro 10.0.2
macOS 12.3.1
Chrome 101.0.4951.54
I'm not sure if this is a Chrome bug, a macOS bug (most likely) or a KM bug, but I thought I would bring it up here in case anyone else has seen this.