Hi, I am using the app "effortless" --> https://www.producthunt.com/posts/effortless and I'm using keyboard shortcuts to navigate the app [ CMD+B to toggle the menu bar app then CMD+M to pause/unpause the timer ]
I am using the timer to know how much I spend on non-work-related tasks. So, i want to trigger the pause/unpause option of the timer based on which applications I am using.
If I am using "PDF expert" or "Mindmanager" [ work-related tasks ], I want the timer to pause itself using the keyboard shortcut I talked about earlier.
And if I am using any other app [ non-work-related tasks ], I want the timer to activate [ again the same shortcuts ].
I have been trying to accomplish this using application trigger. So, I made 2 macros : one to pause the timer and one to activate it based on the applications i am using [ see the screenshots ]. But, the problem is that every time I switch between applications in the same category, it pauses/unpauses the timer which is not what I want.
To clarify what I mean, here what is happening :
When I am working I switch between "PDF expert" and "Mindmanager" which triggers the macro and play/pause the timer. So, it doesn't remain paused X(
I have the same problem when I am switching between the "other" apps [ non-work-related activities ], the macro triggers itself and the timer doesn't remain active X(
I was wondering if there was a way to pause/deactivate the macro, or maybe tell it to activate only the first time then wait until the other macro triggers to be active again... or maybe another method entirely ?
Could you please help me solve this issue, I have been searching for days without finding any solutions.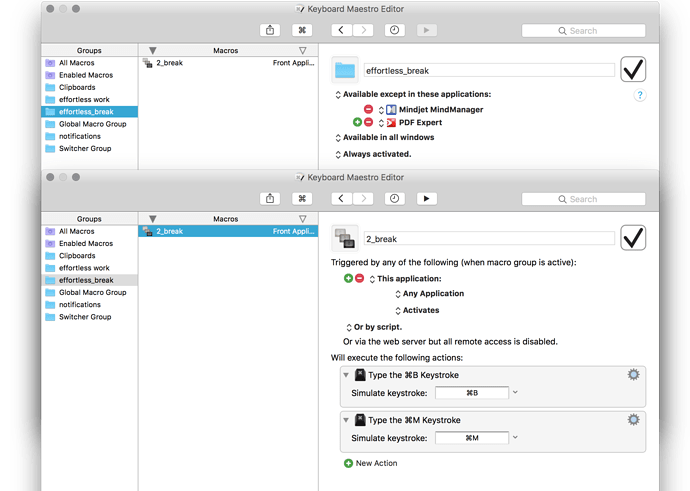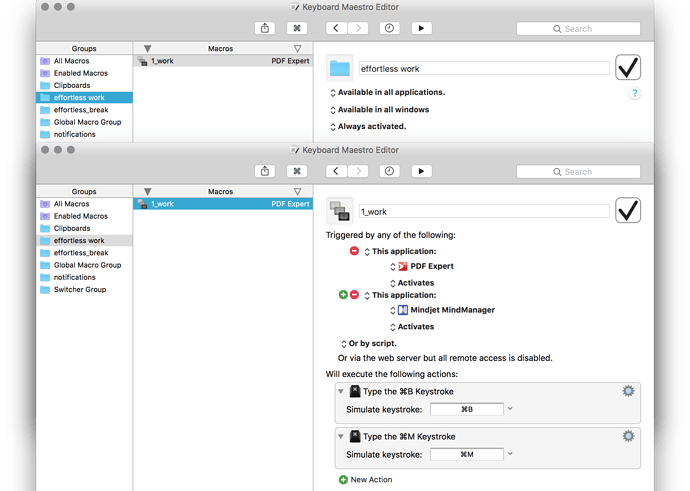 Best regards,