Hello community, I've started to explore the possibilities of Regex in connection with the Search & Replace action.
I wanted to remove the green marked lines from an AppleScript of the UI Browser, in the Script Debugger:
-- Use this script as a wrapper for GUI Scripting statements when you are confident that GUI Scripting is available and enabled or that the user knows how to enable it if necessary

activate application process "Drafts"
tell application "System Events"
tell process "Drafts"
-- insert GUI Scripting statements here:

end tell
end tell
I managed to do that with the DevUtils app


As you can see in the following video, this also works:
05)Click <625E 221102T203804>.kmmacros (31,3 KB)
Click to show image
However, when I test the regex I created in regex101, I get an error?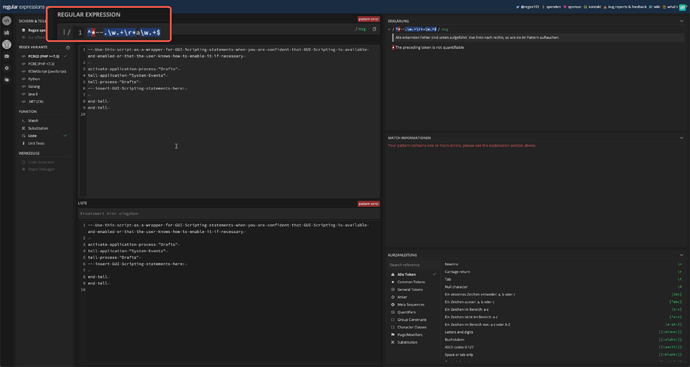 Can anyone help me or improve my regex?
As I said above, I'm still a beginner.