Hey everyone (or anyone
,
OK - so, I am throwing this out there to see if some of you can help me find a better (more reliable) way to submit my timecards. I am going to try to explain it the best I can; so, my humblest apologies if I am not clear.
My work has recently asked me to submit my timecards online through email, and I am having a bit of trouble remembering to submit them on time (I can be a little absent minded). After various casual threats to take away some of my work, I thought it was high time to automate sending in my timecards.
So, the way my time cards work is that they send me an excel file(s) where I fill in the dates for each day that I worked and the hours that I worked. Each project lasts about 7 weeks and I am only allowed to work so many hours, so I usually fill out all the time cards right away and then store them in different folders so that I can just send them on the appropriate Monday morning (if I remember!). I say time card"s" because sometimes I am working on multiple projects and I get paid for each project from each timecard. Under the best possible circumstances, I am to submit those to my supervisor for review and all is well. However, I forget, so, what I have done is to created multiple automator calendar events (one for each of the 7 possible Monday time cards) wherein when that particular Monday is triggered by the calendar date, it grabs the timecards from the particular folder where that week's timecards are being held, it then attaches them to a mail message, and with everything filled out correctly, it sends it on its merry way.
Here is my dilemma: I don't trust automator (at all), and while it has worked once (somewhat successfully - there was one glitch but I think I fixed it) my faith/trust in Automator is almost non-existent - which is why I absolutely love KM. Can someone help me develop or think of a way to do what I need to do using KM?
Here is a screenshot of my Workflow in Automator: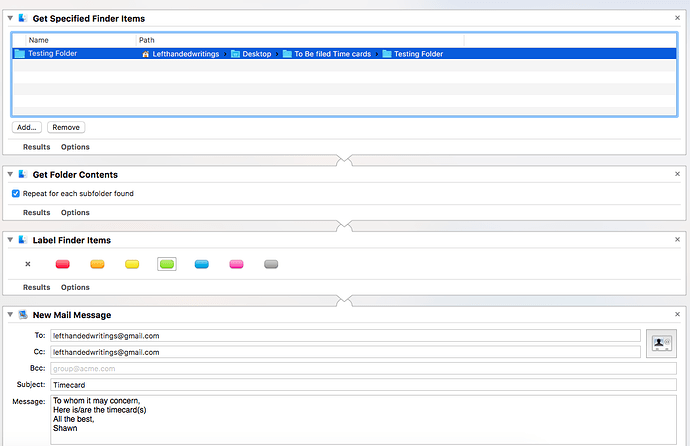 The tags are in there because I have hazel move the files out of the folder and into a different folder after they are sent (that way I know that when the next timecards are being filled out for the next time that folder gets accessed in the triggered calendar event, I am not resending old timecards)

Again, I would love to put my time and trust into KM to do this but after researching the Forums for hours, it really seems like the triggering options and attachment options are pretty limited in scope. I have read Peter's reasoning behind why this is the case, and I absolutely agree; however, I would really like to work with KM for this project rather than Automator. Any thoughts, musings, or questions are much appreciated!
Disclaimer: KM is the extent of my programming ability! Haha! I love this program because I can usually do what I need to do and if I can't, I can find a script that will allow me to do what I need to do. Having used it for my work for over four years now, I wouldn't think twice about spending $500 bucks on this program. I absolutely appreciate all the work that went into this program.
Cheers,
Shawn