I run this continuously: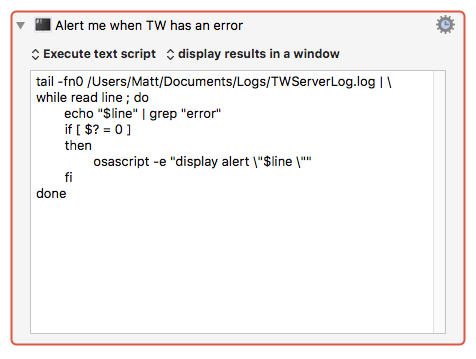 But whenever I clear out TWServerLog.log, the tail stops working for some reason and I have to restart this action i.e. the whole macro. Since there is no way to selectively cancel a macro, I've been trying to find out how I can kill the while loop.
So I want to get the PID back to KM and just kill it.
...
    fi
done &
set thePID %1

...
But in all my attempts to get $thePID back to KM with osascript, for some reason none of them are working. I've narrowed it down to the fact that KM shell scripts seem to have some disability when it comes to passing variables around. The following command works correctly in terminal but displays an empty alert as an execute text script action:
tail -f /Users/Matt/Documents/Logs/TWServerLog.log &\
         set thePID %1
         osascript -e 'on run argv
         display alert (do shell script "echo '$thePID'")
         end run'`

I've learned recently that KM shell actions need to always call commands according to their exact location. So for example, tag -Atf \* had to become /usr/local/bin/tag -Atf \*. Is there something special we have to do for variables as well?