This is a follow-on to this post, but you needn't look at it much. I got the macro to work, and I'll post it below, but now I want more.
can't get copy games... to work in HiArcs
Use case: several times a day, I play a game on chess.com or lichess.org, download the completed game, and open it in HiArcs Chess Explorer (with a click at the bottom of Google Chrome). HiArcs opens, and the screen looks like this: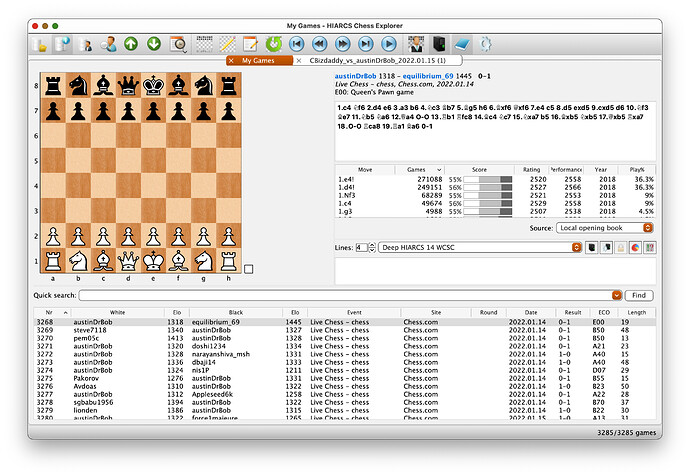 In the screenshot, a database is selected (My Games) and the latest game is open but not selected. (Sometimes it's the other way around.)
My goal: get HiArcs to copy the game to the database
I have a macro palette that opens when HiArcs is activated. The first macro in it is the one from the earlier. If I click on the macro, this screen pops up: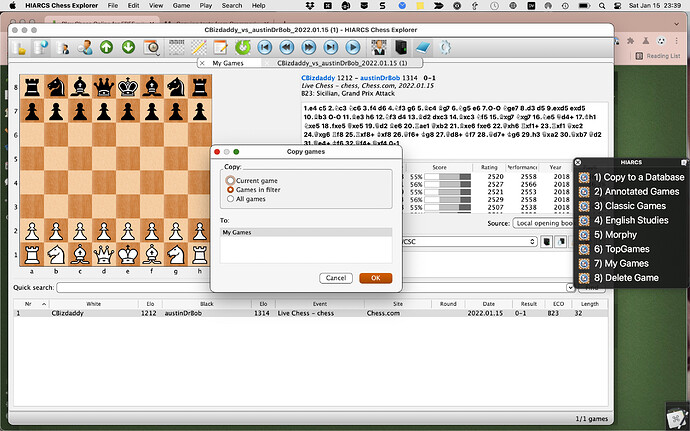 Caveats:
That only works if the game is selected, not the database.
If other games are also open, there will be multiple possible targets in the list.
If I'm not careful, I could copy the database to the game, not the other way around.
I see no way to automate my way around all that, because it's a list of possible targets, not a dialog box KM can fill with "My Games".
Can anyone tell me how to better automate this?
---
Here is the macro mentioned before:
1) Copy to a Database.kmmacros (2.5 KB)