I have a large palette with over 20 options. It was created using my desktop keyboard to be triggered by Shift+Option+Command+S. So every macro in the palette has that as its hotkey trigger.
Now I would like to also trigger the palette using Shift+Control+Option+S because the keyboard on my laptop is arranged slightly differently.
I would like to be able to automate opening a macro for editing, adding a new hotkey trigger, typing the Shift+Control+Option+S hotkey, closing the macro and possibly moving to the next one.
But I haven't yet been able to get a KM macro to operate upon the KM Editor.
Is this even possible?
For instance, I have the first action of a test macro: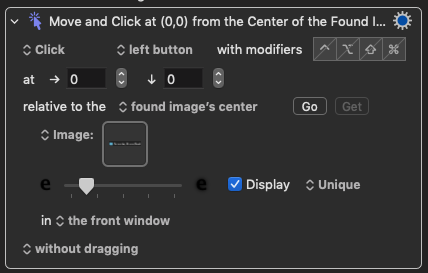 Where Image is an entry in the macro groups in the KM Editor:


When I click the Go button in the action, it properly highlights the macro group menu item. But when I run the macro, it does not click the mouse, it flashes the screen.
Is manipulating the KM Editor possible with KM? What am I missing?