Have people made macros that do things in the KBM Editor? Where to start?
I would like to do the sort of thing described in this macro:
[FILE] Process Lines in Text File
and use it to add elements to a KBM macro that I am creating.
When I'm writing a macro, I usually start by outlining how it works. When I have detailed the steps in text enough that I'm pretty sure that I know how to perform each step with KBM actions, I then translate that outline into groups of KBM steps. I name the Groups according to the outline steps. The idea is that if I collapse all the groups to just their titles, it will read as a top-level overview of what the macro does.
So at some point I have a file with a list of steps that I want my macro to perform and for each line in the file, I want my macro to have a Group with that name. Inside each group I usually start with a comment explaining what's going on, if the task of the group has any complexity at all. So to automate getting that started, I would like each group to contain a Comment action with a Title that is the same text as the group title.
For example, here are two lines from the middle of the list of steps:
11	Hot key control shift command 3 to capture entire screen to clipboard
12	Save Image as Icon of Saved Filename

And here are the resulting two groups in the sequence in the in-progress macro: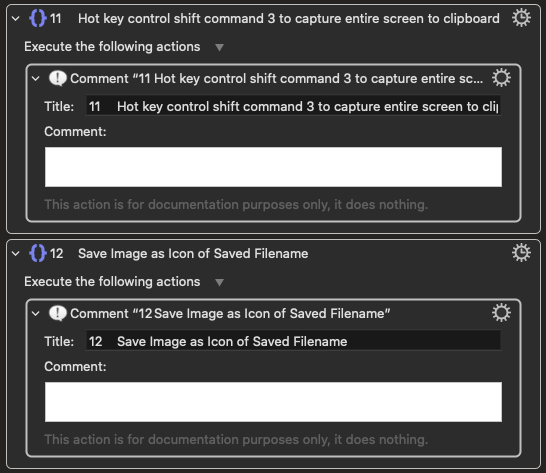 I would probably want to polish it by doing something like letting the numbered list be the titles of the Groups and remove the numbers from the contained comments, but clearly that would be simply editing the clipboard contents or variable value in between the paste operations.
How do I best go about getting KBM to generate KBM? Any ideas?