The folks over at the meta Discourse forum think they are preventing something by hiding the forum software version. But if I can figure it out, anyone can! LOL
So, just to make it easy, here a macro to get the version that KM forum is running:
Example Results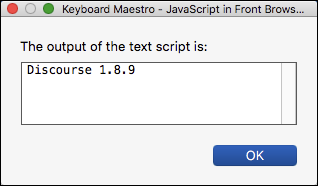 ###MACRO:   Get KM Forum Version
~~~ VER: 1.0    2017-10-27 ~~~
####DOWNLOAD:
Get KM Forum Version.kmmacros (53 KB)
Note: This Macro was uploaded in a DISABLED state. You must enable before it can be triggered.
---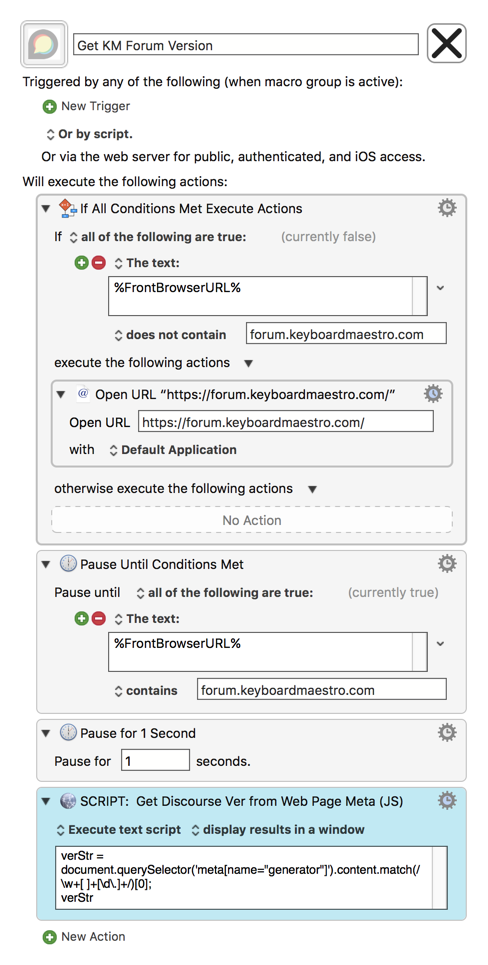 JavaScript In Browser
It uses this very simple script, which should run in both Safari and Chrome, but has been tested only in Chrome:
verStr = document.querySelector('meta[name="generator"]').content.match(/\w+[ ]+[\d\.]+/)[0];
verStr

If anyone has any questions about the script, feel free to ask.