How can I omit a character string in the middle of a variable using RegEx?
Specifically, I need to delete all characters between "Ring" and "[Metal Type]" in the following examples:
Ring - 8mm - Flat - 9 - White Gold - FingerPrint
Ring - 7mm - Flat - 8 - Stainless Steel - FingerPrint
Ring - 6mm - Half-Round - 8 - Rose Gold - FingerPrint
I'm trying to match a "Product" variable to a generic "Template" file using a "Switch" action and don't care about the width, profile & size info contained in the "Product" name (see screen image):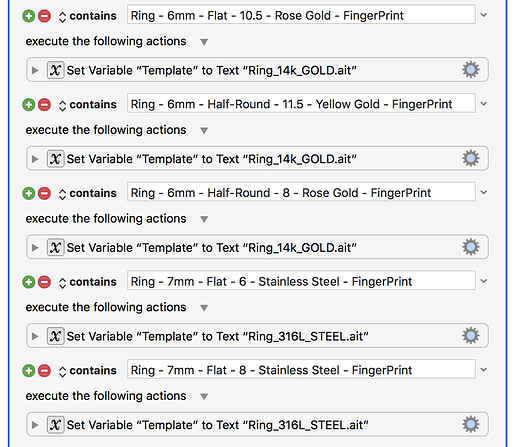 This is specific to the ring products. All other product names correspond directly to the template name.
Thanks for any help.