In Devonthink Pro Office I want to select a record and move it to a specific Group.
An Applescript has been written that produces this dialog box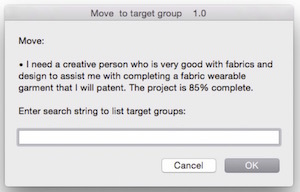 (obviously with text from my selected record) however when I evoke this script from within DTPO I can not use an insert text by pasting or typing action into the search string textbox even tho there is a flashing cursor there. Somehow KM cannot see the input text field.
Any ideas?
Here is the Applescript:
property pMove : "Move"
property pDup : "Duplicate"
property pRep : "Replicate"

property pDefaultVerb : pMove -- Default verb: may be switched to Duplicate (pDup) or Replicate (pRep) at run-time

-- ver 1.0      Allows double dot (..) as short-hand for parent group 
--            (to facilitate moving selected records up one level in the group hierarchy)
-- ver 0.9      Fixed a big involving search strings which include a space
-- ver 0.8      Clarified the Growl message: bold header: [Verb]d [N] records to:, body:[Destination]/n[List of records]
-- ver 0.7      Enhanced the "Group not Found" message for replication to remind user that replication
--            is only possible within a single database.
-- ver 0.6      The default verb (Move) can be overridden by prefixing the search string with "d " or "r "
--            (for "Duplicate" or "Replicate") in LaunchBar or the standard dialog
--            (a single verb letter followed by a single space before the search string itself)
-- ver 0.5      Can get the search string from LaunchBar
-- ver 0.4      Allows target databases (where their names match) as well as target folders
--            (the default incoming group of the database is used as the destination)

property pVer : "1.0"
property pTitle : "  to target group" & "    " & pVer

property pstrDelim : "    "

on run
   set lstSelns to GetDevnSelns()
   if lstSelns ≠ {} then
      set strNames to GetNameList(lstSelns)
      set strCmd to GetSearchString(pDefaultVerb, strNames)
      if strCmd ≠ "" then
         set {strVerb, strFind} to ParseCmd(strCmd)
         if strFind ≠ "" then ProcessSelns(lstSelns, strNames, strVerb, strFind)
      end if
   end if
end run

-- GET THE TARGET GROUP SEARCH STRING FROM LAUNCHBAR
on handle_string(strCmd)
   if strCmd ≠ "" then
      set lstSelns to GetDevnSelns()
      if lstSelns ≠ {} then
         set {strVerb, strFind} to ParseCmd(strCmd)
         if strFind ≠ "" then
            set strNames to GetNameList(lstSelns)
            ProcessSelns(lstSelns, strNames, strVerb, strFind)
         end if
      end if
   end if
end handle_string

on ParseCmd(strCmd)
   set {strVerb, strFind} to {pDefaultVerb, ""}
   set text item delimiters to space
   set lstParts to text items of strCmd
   if length of lstParts > 1 then
      set strFirst to first item of lstParts
      ignoring case
         if strFirst is in {"m", "d", "r"} then
            if strFirst = "m" then
               set strVerb to pMove
            else if strFirst = "d" then
               set strVerb to pDup
            else if strFirst = "r" then
               set strVerb to pRep
            end if
            set strFind to (items 2 thru end of lstParts) as string
         else
            set strFind to strCmd
         end if
      end ignoring
   else
      set strFind to strCmd
   end if
   {strVerb, strFind}
end ParseCmd

on ProcessSelns(lstSelns, strNames, strVerb, strFind)
   -- CHECK THAT A KNOWN VERB IS SPECIFIED AT THE TOP OF THE SCRIPT
   if strVerb is not in {pMove, pDup, pRep} then
      tell application id "com.apple.systemevents"
         activate
         display dialog "\"" & strVerb & "\": unknown value for pDefaultVerb" & return & return & "Expected Move | Duplicate | Replicate"
      end tell
      return
   end if
   
   tell application id "com.devon-technologies.thinkpro2"
      -- GET FILTERED SET OF POSSIBLE DESTINATIONS
      if strVerb ≠ pRep then
         -- BOTH OPEN DATABASES WITH MATCHING NAMES
         set lstParent to (incoming group of databases where name contains strFind)
         
         -- AND FOLDERS WITH MATCHING NAMES
         repeat with oDb in databases
            set lstParent to lstParent & (parents of oDb where name contains strFind)
         end repeat
      else -- OR, IN THE CASE OF REPLICATION, IN CURRENT DATABASE 
         set lstParent to (parents of current database where name contains strFind)
      end if
      
      -- ALLOW FOR DOUBLE DOT (..) AS REFERENCE TO PARENT DIRECTORY OF SELECTED ITEMS
      if strFind = ".." then set end of lstParent to first item of parents of (first item of lstSelns)
      
      -- BUILD NUMBERED MENU OF DESTINATION NAMES
      set lngParents to length of lstParent
      if lngParents > 0 then
         set lngDigits to length of (lngParents as string)
         set lstMenu to {}
         repeat with i from 1 to lngParents
            tell item i of lstParent
               set strName to (name of its database) & its location & its name
            end tell
            if strName = "Inbox/Inbox" then set strName to "Global Inbox"
            set end of lstMenu to my PadNum(i, lngDigits) & pstrDelim & strName
         end repeat
         
         -- CHOOSE DESTINATION
         tell application id "com.apple.systemevents"
            activate
            set varTargets to choose from list lstMenu with title strVerb & pTitle with prompt strVerb & ":
         
" & strNames & "

to target group:" default items {first item of lstMenu} without multiple selections allowed
         end tell
         if varTargets is not false then
            
            --    RETRIEVE CHOSEN DESTINATION BY NUMERIC INDEX
            set my text item delimiters to space
            set oTarget to item ((first text item of (first item of varTargets)) as integer) of lstParent
            
            -- MOVE | DUPLICATE | REPLICATE SELECTED ITEMS TO DESTINATION
            if strVerb = pMove then
               repeat with oRec in lstSelns
                  move record oRec to oTarget
               end repeat
            else if strVerb = pDup then
               repeat with oRec in lstSelns
                  duplicate record oRec to oTarget
               end repeat
            else if strVerb = pRep then
               repeat with oRec in lstSelns
                  replicate record oRec to oTarget
               end repeat
            end if
            
            -- NOTIFY RESULT BY GROWL (IF INSTALLED) OR WITH DIALOG BOX
            my Announce(oTarget, strVerb, (length of lstSelns), strNames)
            open window for record oTarget
            activate
         end if
      else
         if strVerb ≠ pRep then
            set strRepNote to ""
         else
            set strRepNote to "
            
(If you were attempting to replicate to another open database, note that DevonThink only supports replication within a single database)"
         end if
         tell application id "com.apple.systemevents"
            activate
            display dialog "No open groups contain the string:" & "
   
      " & strFind & strRepNote buttons {"OK"} default button "OK" with title strVerb & pTitle
         end tell
      end if
   end tell
end ProcessSelns

on GetDevnSelns()
   tell application id "com.devon-technologies.thinkpro2"
      return selection
   end tell
end GetDevnSelns

on GetSearchString(strVerb, strNames)
   set strFind to ""
   -- GET  SUB-STRING TO FILTER LIST OF TARGETS
   tell application id "com.apple.systemevents"
      activate
      set strFind to text returned of (display dialog strVerb & ":" & return & return & strNames & return & ¬
         "Enter search string to list target groups:" default answer "" buttons {"Cancel", "OK"} default button "OK" cancel button "Cancel" with title strVerb & pTitle)
   end tell
   return strFind
end GetSearchString

on GetNameList(lstSelns)
   -- BUILD BULLETED LIST OF SELECTION NAMES
   set strNames to ""
   repeat with i from 1 to count of lstSelns
      set strNames to strNames & "• " & name of (item i of lstSelns) & return
   end repeat
   return strNames
end GetNameList

-- REPORT RESULT
(*
on Announce(oGroup, strVerb, lngRecords, strNames)
   tell application id "com.devon-technologies.thinkpro2" to set {strDb, strPath, strFolder} to {name of database, location, name} of oGroup
   set strGrowlTitle to strVerb & "d " & (lngRecords as string) & " records to:"
   set strGrowlBody to strDb & strPath & strFolder & "
   
" & strNames
   
   tell application id "com.apple.systemevents"
      -- USE GROWL IF IT'S RUNNING
      if (count of (every process whose name is "GrowlHelperApp")) > 0 then
         tell application id "com.Growl.GrowlHelperApp"
            register as application "houthakker scripts" all notifications {pTitle} default notifications {pTitle} icon of application "DEVONthink Pro"
            notify with name pTitle title strGrowlTitle application name "houthakker scripts" description strGrowlBody
         end tell
      else
         -- (OR USE A STANDARD DIALOG)
         tell application id "com.apple.systemevents"
            activate
            display dialog strReport & "
            
(This script works best if Growl is installed)" buttons {"OK"} with title pTitle
         end tell
      end if
   end tell
end Announce
*)

-- GET A DIGIT STRING OF MINIMUM WIDTH (LEFT-PADDING WITH ZEROS WHERE NEEDED)
on PadNum(lngNum, lngDigits)
   set strNum to lngNum as string
   set lngGap to (lngDigits - (length of strNum))
   repeat while lngGap > 0
      set strNum to "0" & strNum
      set lngGap to lngGap - 1
   end repeat
   strNum
end PadNum