I've been getting frustrated with the Search function in the KBM Editor. It seems that if I includes spaces in the search string, then it treats the space as a delimiter of multiple terms and I get results that have the individual terms anywhere in the macro.
I've tried surrounding the string with quotes, and then it only finds instances where the first term is preceded by a quote and the last term is followed by a quote (usually nothing). I've tried puting backslashes before the spaces and then, similarly, nothing is matched.
How can I match a literal space in a search string in the Editor? Now I'm especially looking for variable names that have spaces, but the problems has shown up when looking for a phrase in Comments or commands in AppleScript too.
For example, this window shows that I have a permanent variable called "Alert Button" in my system. I'd like to convert that to a Local variable before deleting this unnecessary Global variable. But I cannot find where that variable is used.
When I search for that name, I get five results: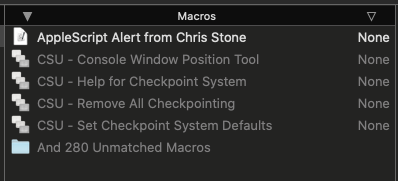 Looking into them, none of the "found" macros uses that variable. So I can delete it and there's nothing to have to "localize". The one active macro consists simply of an Execute AppleScript action that sets no variables.
However, very oddly, the inactive macros from the Checkpoint system that have been "found" don't have any actions highlighted as containing the search string, the Search system is finding the macros but not identifying any actions within them. Could that be related to the search string having a space in it? That's a wild guess, but it's a weird symptom.