I have setup macros for renaming files In CaptureOne. Depending on the letter needed, the first Macro sets that Letter as a variable like this Var Rename - A [clipboard].kmmacros (2.1 KB)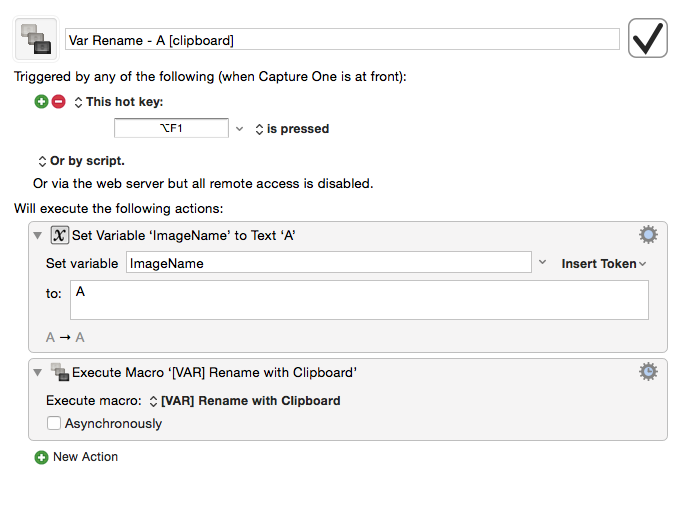 and Var Rename - B [clipboard].kmmacros (2.1 KB)
Which is exactly the same except for setting variable to "B"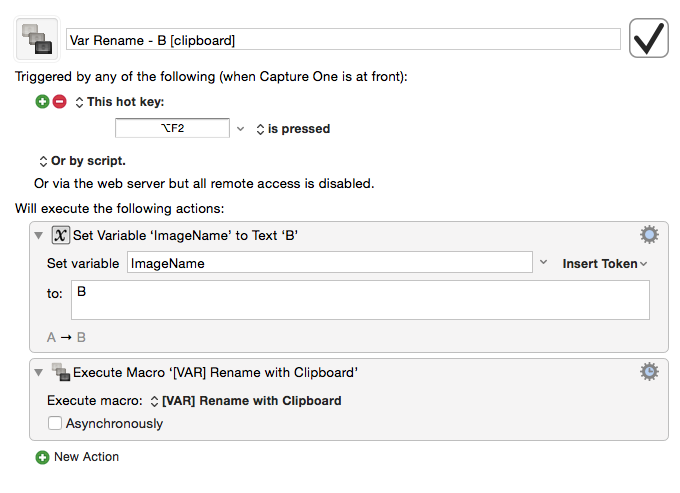 Then each of those macros execute this macro [VAR] Rename with Clipboard.kmmacros (3.0 KB)
which looks like this: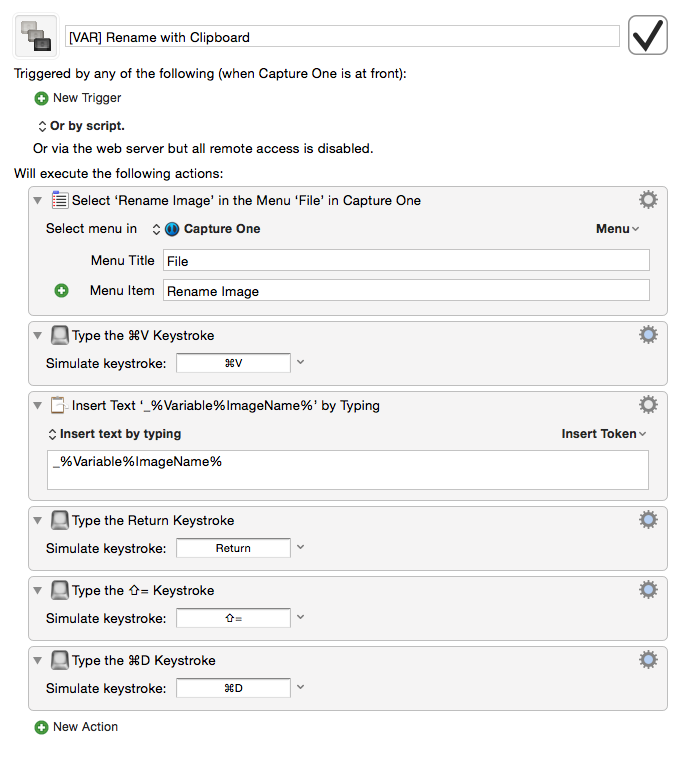 To explain further, we use the clipboard to re-name images with CaptureOne. CaptureOne is setup to include the clipboard contents in the image name initially. These macros are designed to quickly re-name to the correct SKU if it wasn't set to clipboard when the image was taken. Hence File/Rename Image, then ⌘V to paste the correctly copied SKU followed by "_" and the Correct letter "A" or "B" Then ⇧= simply sets the color tag and ⌘D processes the image.
These work fine on 15 or so Macs, but we have 1 Mac that is going screwy when hitting ⌥+F1 to execute the first macro above. ⌥+F2 works as expected on the trouble Mac. The only difference between these is that the first sets the variable as "A" and the second sets it as "B" then both macros execute the same follow up macro.
I tried running the debugger on the trouble Mac, but it's not catching the problem. Basically when hitting ⌥+F1 to execute the first macro, CaptureOne fires the camera, zooms in on the image and then the Mac goes into screen saver. Any thoughts what may be causing this, or how I can trouble shoot?