I'm running a macOS VM in UTM, which doesn't currently support clipboard sharing. To work around this, I added this macro to Keyboard Maestro: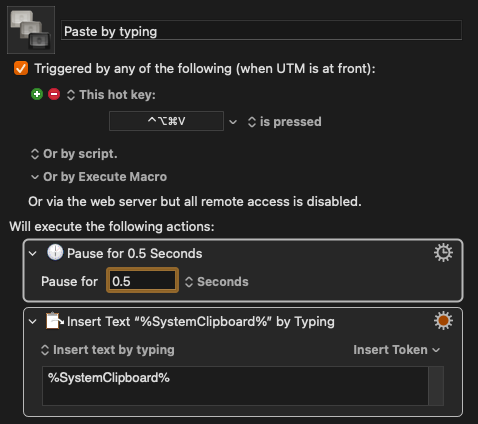 The pause is necessary as otherwise the first character gets lost for some reason.
However, when a URL is on the clipboard, the colon gets changed to a semicolon — https://forum.keyboardmaestro.com/latest gets changed to https;//forum.keyboardmaestro.com/latest, meaning I have to edit every URL. Inserting an Alert before Insert Text by Typing shows that KM is reading the clipboard correctly, it's just the insertion where it is changing it.
Is this intentional behaviour? I can see it possibly being a security feature, but I'd still like an option to disable it on a per-macro basis, as it's making my life very difficult in this case where I'm pasting with the full knowledge of what I'm pasting and where…
There doesn't seem to be any documentation of this behaviour on the Insert Text by Typing Wiki page. Assuming it's intentional, it would be helpful if it could be mentioned there.