I decided to collect some Tokens on a Palette to quickly insert them directly from there when needed. As I tried to use the Action "Insert text by typing" (or pasting) nothing happened. The field stayed blank. The result in my particular example should look like this…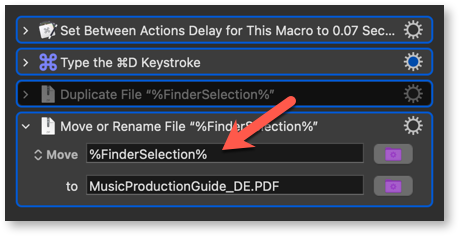 As a workaround or better for testing purposes I created a Named Clipboard containing the Token and used Paste from Named Clipboard which worked.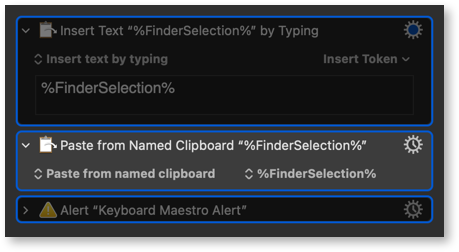 Is there a specific reason that I can't use typing text? I fear when I need to use Named Clipboards it gets messy because I already have "quite a few" that I need to use.
A side effect: In this case I worked with Finder selections and my goal was to duplicate a file and rename it in one macro. I recognized that KM behaves differently from the Finder. After duplicating the original file kept selected. IMHO in most cases the newly created file is the one that should be renamed or further processed, i.e. moved to a different location. When using the Finder command CMD&D the new file is selected automatically and the renaming can be done using the same Token. Of course this can also be done using the Finder command which I did.
Anyway, maybe an idea for a small improvement in one of the next updates @peternlewis?
Thanks!