I am very excited to report that I have come up with a way to activate macros in Keyboard Maestro using a Mac with an iPad attached using Sidecar. And WOW is it cool.
The reason I did this was because a few days ago I saw some posts about the support Keyboard Maestro gives for a product called "Stream Deck." And I was trying to debate whether to spend over $100 to get one. It's pretty cool because its buttons are essentially little monitors which let you change the keycaps electronically, and KM supports that now.
But then I was thinking "I'm lazy, and I'm cheap. Isn't there a way to connect an iPad to my Mac to allow me to press buttons on my iPad's screen to get basically the same result?" And after a couple of days of work, I've succeeded. Mostly. The main downside is that when you press the button you have to use the Apple Pencil. That's definitely a disadvantage, but it's still very cool to see it in operation.
This is one of those things that's better to see in action than for me to upload the macro. So here's a short video of it in action: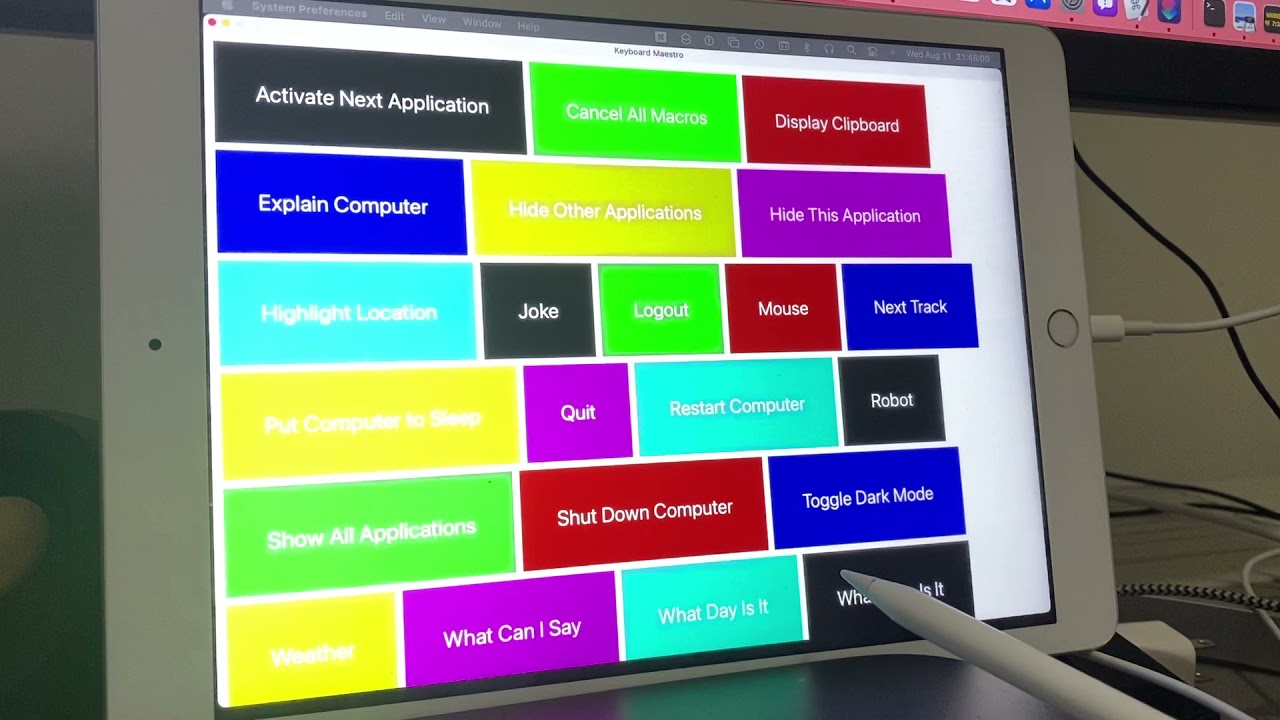 And here's a short document from Apple explaining how Sidecar works:
It might not be useful for handicapped people because it requires using the Apple Pencil. A couple of years ago you couldn't use the Pencil for this purpose. I'm hoping that Apple will allow you to use your fingers in the future. That would really help. We could petition Apple to support fingers in Sidecar. It makes no sense why Apple doesn't allow touch but allows Pencil input in Sidecar.
I could upload my code, but at this point I'm not 100% sure if any of my code requires macOS Monterey, which won't be coming out for a few more weeks.
Sidecar does support wireless transmission between the iPad and the Mac, but for some reason I can't figure out I can't get that working right now. It says something like my "signal is too weak." So in this video you can see a USB cable running from my tablet to my Mac.
P.S. In my video demo I should have pressed the button "Highlight Location." Maybe I'll come up with some new examples and post a new video.