Is there any action that can run an url scheme such as (mindnode://open?name=Brain%20Storm%20Inbox.mindnode)? Many thanks!
Hey Simon,
You can quite often answer your own question by doing the following:
A) Use the Search Field in the Keyboard Maestro Editor Help menu.
      – Search for words of interest.
B) In the Keyboard Maestro Editor type ⌃⌘A to Insert Action by Name.
      – Type Words you're looking for.
** Within a Text Field:
⌃⌘F -- Finds KM Functions
⌃⌘T -- Finds KM Text-Tokens
C) In the Keyboard Maestro Editor type ⌘K.
      – Use the Search Field and Categories.
D) Search the Keyboard Maestro Wiki.
E) Search the forum itself.
      – "url scheme"
-Chris
@sthsm1986 and all:
Great tip from Chris @ccstone. I would add that once the list appears, you can click the "help" link to see the KM Wiki Help article for that item.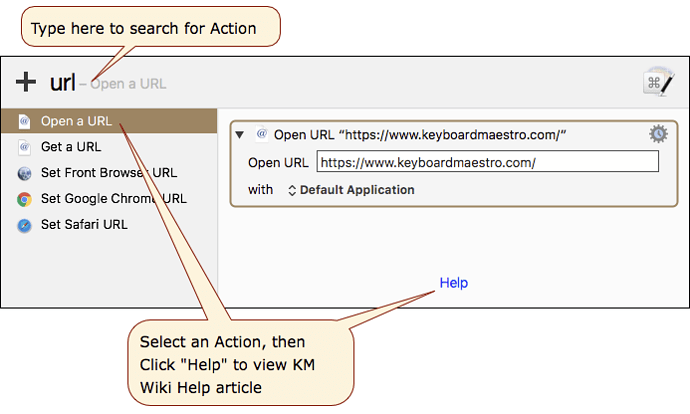 Bug?
@peternlewis, I just noticed that when I do this the KM Editor app is hidden and the Wiki page is opened. Seems like a minor bug to me. Can you confirm?
Running Keyboard Maestro 8.2.4 on macOS 10.12.6.
Feature Request
Also, I'd like to make a feature request: OPT-Click, or OPT-RETURN, on an item in the window should also open the Wiki help page. This would make it consistent with using the OPT key with the menu items.
Thanks.
Yes, it is a bug. The Insert By Name sheet was set to hide on deactivate, and that took the editor window with it.
Fixed for the next version.
Noted.
Thank you for this considerate reminder!!
Done for the next version.