I'm having an issue with KM after using Automator to copy 2+ filepaths from Finder to the System Clipboard. Unfortunately Keyboard Maestro only receives 1 of the filepaths - the last one.
It starts with an Automator workflow that copies the paths of the current Finder selection and then runs a KM macro: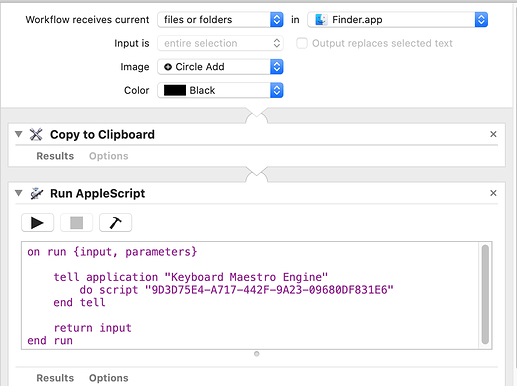 Automator then calls the below macro:

Unfortunately the above KM action only displays a single filepath. I have a feeling this is a KM issue because when I Paste into a text editor after running the workflow / macro – I get all of the files I selected in Finder as expected.
Something is happening where KM's version of the System Clipboard is only getting the last file selected. For example, if I select files a.png, b.png, and c.png - KM only prints the path of c.png.
Couple questions:
Is this a bug? I can't be sure, but it may have to do with how KM handles newline characters in the System Clipboard.
Is there a better way to pass these arguments to KM, keeping in mind there could be 1 - N of them?
Tested on:
MacOS 12.1, KM 9.2, Automator 2.10
MacOS 10.15.3, KM 9.2, Automator 2.10