The Keyboard Maestro functions "NOW" and "TIME" now appear to return the date/time in you local time zone, NOT GMT as stated in the KM Wiki.
I just ran this test: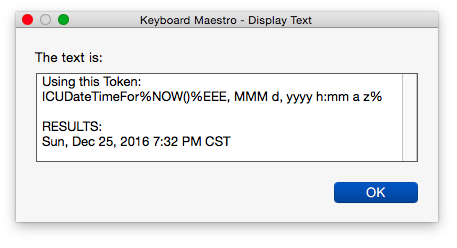 Which is exactly my local time:
2016-12-25 7:33 PM CT
I am running Keyboard Maestro 7.3.1 (7.3.1) on both macOS 10.10.5 and 10.11.4, in the US Central Time zone.
I have also noticed that in other calculations, like
DOW(NOW())
it is using local time.
Can anyone confirm or refute my results?
If you are not in the US CT zone, please run this test and report your results.
---
My Test Macro:
MACRO:   
@DATE

@TEST

KM NOW & TIME for GMT
---
VER: 1.0    2016-12-25 ~~~
DOWNLOAD:
@DATE @TEST KM NOW & TIME for GMT.kmmacros (2.6 KB)
---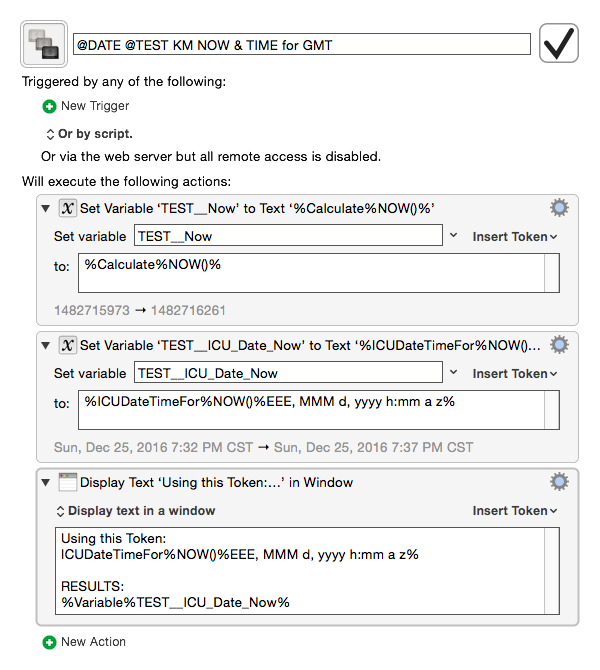 ---
The NOW function returns the current time in unixtime, being seconds since the start of 1970 GMT.
NOW() === TIME() == the current unix time
It is the same as TIME().
---
And another Wiki article that makes this statement about NOW():
Since TIME() and NOW() returns the specified date/time in GMT, you can adjust for your local time zone by subtracting the GMTOFFSET() function
%ICUDateTimeFor% TIME(2015, 12, 25) - GMTOFFSET() %EEE, MMM d, yyyy%
⇒ Fri, Dec 25, 2015