With the great help of @ComplexPoint, @ccstone and @mrpasini I managed to create a Job Calculator for Trados SDLPPX packages. Many thanks to you guys for your patience and great support
.
Place the Trados SDLPPX package to analyse on your Desktop.
Place the tab-delimited file with word rates per category (Word_Rates.txt) in your Documents folder.
Select the SDLPPX package and choose Trados Job Calculator from Keyboard Maestro's Status Menu.
Select the appropriate word rates record and press Enter. (You can easily adapt the file Word_Rates.txt to your needs.)
In the displayed Trados Job Calculator tabel, adapt individual word rates where needed. After any modification, press Update to update the totals.
Press Save to copy the total amount to your clipboard.
Layout of the file Word_Rates.txt:


Select a record with word rates:


Press Enter and get this: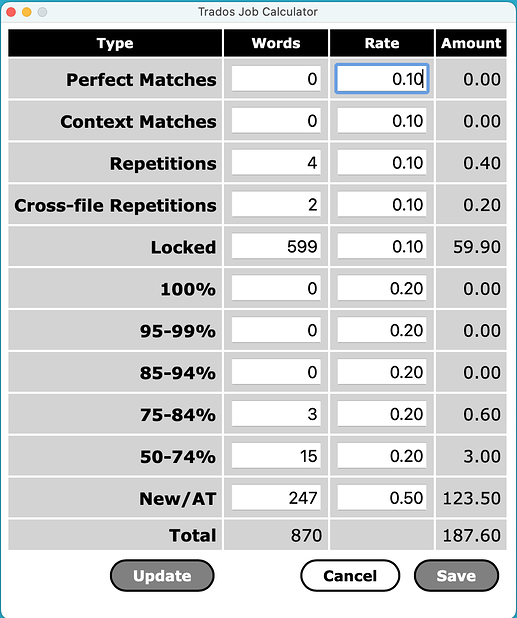 Adapt the rates where needed (and press Update). Press Save to copy the total amount.
Display - Macro - Image
Trados Job Calculator.kmmacros (46.7 KB)
Word_Rates.txt.zip (685 Bytes)
Demo: