Use Case
If you have a lot of KM Macro Groups, like I do, then it can be a real pain to quickly get to the few that you most often need to edit.
This macro lets you quickly jump to one of your Favorite Groups.

It will select the Group, enable it, and select the first Macro in that Group (determined by your sort order)

You can easily and quickly find/choose your Group just by typing a few characters in its name.
If need be, you can even see a choose from a list of ALL of your Macro Groups

Keep in mind that the KM Prompt With List action Action does NOT show any items in the list if the list is > 100 items.
As always, please feel free to post any comments, issues, and/or suggestions you may have concerning this macro.
---
Example Output
This is how it looks using MY Favorite Groups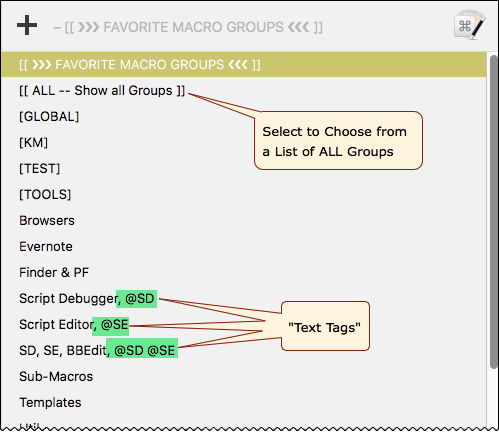 ---
MACRO:   Jump To Favorite KM Macro Group [Example]
~~~ VER: 3.0    2018-08-12 ~~~
UPDATED: 2018-08-12 21:14 GMT-5
Revised to use better method for selecting Macro Groups and Macro Column
Added allowance for using Text Tags at end of Macro Group Name

Credit to @ccstone for idea and method
To use, simply put a COMMA at the end of your actual Macro Group Name, plus whatever text you want for tags or "shortcuts"
You can use COMMAs within the real Name
For Example:
SD, SE, BBEdit, @SD @SE
Actual Name:
SD, SE, BBEdit
DOWNLOAD:
Jump To Favorite KM Macro Group [Example].kmmacros (14 KB)
Note: This Macro was uploaded in a DISABLED state. You must enable before it can be triggered.
---
ReleaseNotes
Author.@JMichaelTX
PURPOSE:
Quickly Jump KM Editor to a Favorite Macro Group
REQUIRES:
KM 8.0.2+
But it can be written in KM 7.3.1+
It is KM8 specific just because some of the Actions have changed to make things simpler, but equivalent Actions are available in KM 7.3.1.
.
macOS 10.11.6 (El Capitan)
KM 8 Requires Yosemite or later, so this macro will probably run on Yosemite, but I make no guarantees.
How To Use
Activate the KM Editor
Trigger this macro.

It will then prompt you to select one of your favorite Groups
Choose a Group by typing any part of its Name
Choose [[ ALL ]] to build a list of ALL of your Groups

The macro will then:

Select and Enable the Macro Group
Select the First Macro in that Group
MACRO SETUP
Carefully review the Release Notes and the Macro Actions

Make sure you understand what the Macro will do.
You are responsible for running the Macro, not me. ??
.
Assign a Trigger to this maro..
Move this macro to a Macro Group that is only Active when you need this Macro.
ENABLE this Macro.
.
REVIEW/CHANGE THE FOLLOWING MACRO ACTIONS:
(all shown in the magenta color)

Prompt with List of Favorite Macro Groups
Enter your list of Favorite Groups here
TAGS: @MacroGroups @Favorites @AS @KM.Editor
USER SETTINGS:
Any Action in magenta color is designed to be changed by end-user
ACTION COLOR CODES
To facilitate the reading, customizing, and maintenance of this macro,
key Actions are colored as follows:
GREEN -- Key Comments designed to highlight main sections of macro
MAGENTA -- Actions designed to be customized by user
YELLOW -- Primary Actions (usually the main purpose of the macro)
ORANGE -- Actions that permanently destroy Variables or Clipboards,
OR IF/THEN and PAUSE Actions
USE AT YOUR OWN RISK
While I have given this limited testing, and to the best of my knowledge will do no harm, I cannot guarantee it.
If you have any doubts or questions:

Ask first
Turn on the KM Debugger from the KM Status Menu, and step through the macro, making sure you understand what it is doing with each Action.
---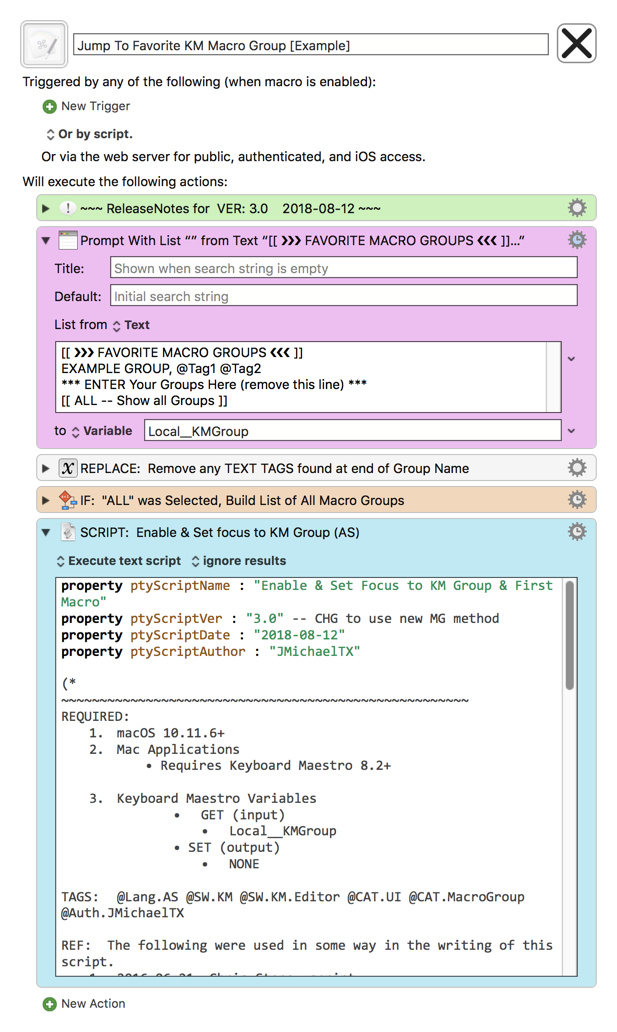 ---
property ptyScriptName : "Enable & Set Focus to KM Group & First Macro"
property ptyScriptVer : "3.0" -- CHG to use new MG method
property ptyScriptDate : "2018-08-12"
property ptyScriptAuthor : "JMichaelTX"

(*
~~~~~~~~~~~~~~~~~~~~~~~~~~~~~~~~~~~~~~~~~~~~~~~~~~~~~
REQUIRED:
  1.  macOS 10.11.6+
  2.  Mac Applications
      • Requires Keyboard Maestro 8.2+
      
  3.  Keyboard Maestro Variables
        •  GET (input)
          •  Local__KMGroup
        • SET (output)
          •  NONE  
        
TAGS:  @Lang.AS @SW.KM @SW.KM.Editor @CAT.UI @CAT.MacroGroup @Auth.JMichaelTX

REF:  The following were used in some way in the writing of this script.
  1.  2016-06-21, Chris Stone, script
      Set Focus to Macro or Group Name Field
      
  CHANGE LOG:
    3.0      2018-08-12
              • Revise to use better method for selecting Macro Groups.
  
~~~~~~~~~~~~~~~~~~~~~~~~~~~~~~~~~~~~~~~~~~~~~~~~~~~~~
*)
---------------------------------------
-- GET KM VARIABLES --
---------------------------------------

### Requires Keyboard Maestro 8.2+ ###

set kmInst to system attribute "KMINSTANCE"

tell application "Keyboard Maestro Engine"
  set kmGroupName to getvariable "Local__KMGroup" instance kmInst
end tell
if (kmGroupName = "") then set kmGroupName to "z[Examples by JMichaelTX]"

---------------------------------------
-- SELECT, ENABLE, & SET FOCUS TO KM GROUP --
---------------------------------------

tell application "Keyboard Maestro"
  
  if (exists macro group kmGroupName) then
    
    select macro group kmGroupName -- name or UUID
    set enabled of (macro group kmGroupName) to true
  else
    beep
    display dialog "[ERROR]
Macro Group Does NOT Exist: 
" & kmGroupName with title ptyScriptName buttons {"Cancel"} default button "Cancel"
  end if
  
end tell

--- SET FOCUS TO FIRST MACRO BASED ON USER'S SORT CHOICE ---
--- This Script Block Provided by Chris Stone (@ccstone) ---
tell application "System Events"
  tell application process "Keyboard Maestro"
    tell window "Keyboard Maestro Editor"
      tell scroll area 2 of splitter group 1 of group 1
        set focused to true
      end tell
    end tell
  end tell
end tell


set scriptResults to "OK" & return & "KM Group Set to: " & name of oKMGrp

return scriptResults