NOTE: If you don't already know JXA, and/or don't know how to find the paths to UI elements, you can ignore this post. There's other topics on the subject on this forum, and a number of web articles available if you do a Google search.
Let's say you have a popup button like this:

When you click it, you get this menu: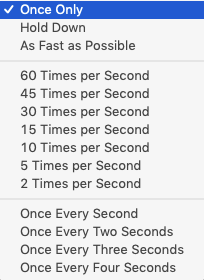 And let's assume you know JXA, and have managed to obtain the path to the button, which would look something like this:
var myButton = _win.splitterGroups[0].splitterGroups[0].groups[0].popUpButtons[0];

You probably know you can get the value like this:
console.log(myButton.value());
// Only Once

But did you know you can easily set the value? You can, like this:
myButton.click();
myButton.menus[0].menuItems.byName("Once Every Second").click();

You're welcome.