Continuing the discussion from Quick Macro Doesn't Work Inside Keyboard Maestro:
I've been meaning to figure this out for a while. I can't get quick macros to work at all. (Recording does work when I am building a macro.) It is very strange that I didn't track this down a long time ago because I am used to recording 1-off macros in other environments, and do so extensively in Emacs. Seeing the above post motivated me to pursue my problem at last.
I have the following macro. (I changed the modifiers slightly from the documentation. I added a beep so I can confirm that the macro gets executed, and it does.)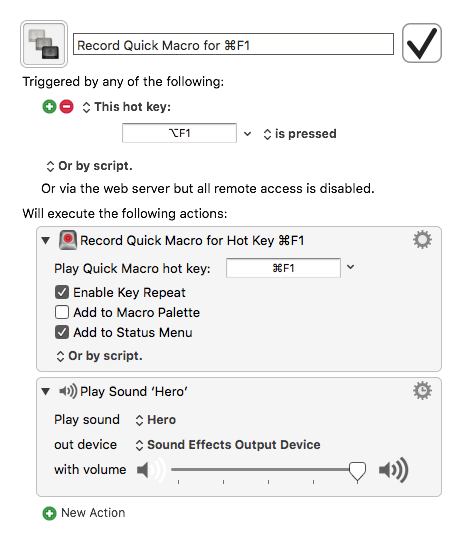 In TextEdit (for instance, but I don't think the application matters) I type ⌥F1, "abc", ⌥F1, ⌘F1 and nothing happens. What obvious thing am I missing?
Looking at ~/Library/Application Support/Keyboard Maestro/Quick Macros.plist (thank you, I didn't know about that file), there is no evidence of my typing. Just to be sure, I saved the file to another path and did the same thing but typing "d" this time, then compared the file, finding no differences. Yet, the file modification time does change when I do the recording.