I think the answer will be very obvious... But I can't find it.
I have a hotkey that launches a palette with a Macro Group containing several iTunes playlists. If I then click one of the playlists, that playlist starts to play immediately in iTunes.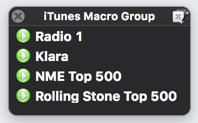 Obviously I'd like to use a keyboard shortcut to select one of these entries, but I can't seem to create a shortcut that only fires when this palette is showing.
Example: I'd like to use "r" to launch "Radio 1" on top. However, if I create a hotkey trigger or a string trigger for that entry, typing "r" anywhere launches that playlist... That's not the idea.
What am I missing here? Is there no simple way to achieve this?
Thanks & cheers --Mike