Hi folks,
I just got a Logitech MX Master 3 mouse for my Mac and installed the Logitech Options software.
The mouse has a thumb wheel and in Safari this wheel is supposed to scroll through the open tabs, very convenien!.
However, only scrolling that wheel downwards works for me and goes through the tabs leftwards. When I scroll that wheel up instead of scrolling through the tabs to the right this half transparent window flickers for app. 0.1 seconds and prevents the tab-scrolling: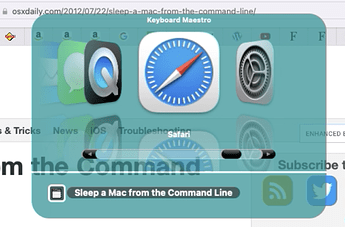 (I screen-recorded this behaviour and this is a screenshot from the movie.)
When I completely quit KM everything works fine, the thumb wheel scrolling cycles through the open Safari tabs in both directions perfectly.
Alas, I don't want to quit KM! Has anyone any hint what might be the problem here? And, even better, a solution? That'd be awesome!
Thanks in advance,
Stefan.