I feel a bit sheepish for not being able to figure out something so basic on my own, but here we are.
I'd like to move the Finder selection to a destination path as set by TriggerValue, using AppleScript so that it can be undone if need be. This is as far as I've managed to get but, for reasons that will doubtless be obvious to you, nothing happens: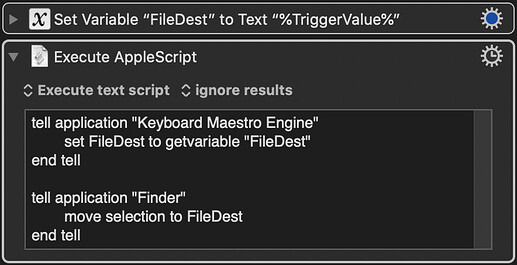 The path passed on as a TriggerValue is copied directly from Finder, as as such is formatted like this example:
/Users/(username)/Desktop/File.doc
I don't know whether that format needs to be changed; I'm kind of flying blind.
Context: I have hundreds of files that need to be sorted and I'd like to press a button on my Stream Deck to send each one to one of a number of folders in the same directory. If there's a simpler method, please do let me know.
Side note: I vaguely remember there being a way to get AppleScripts to look all pretty in KM. I'm sure there's a hotkey you press and it compiles them with colours on a white background but I can't remember what it is and couldn't find it by searching on here. [Edit: Solved below by @Tiffle. It's Enter on the Numpad or fn+Enter.]