Use Case:
When you need a linked reference to a KM Wiki article, like responding to questions in this KM Forum, you can use this macro which makes it very easy to search and find the correct article, create a markdown link, and then paste into your reply to the question.
UPDATED: 2020-10-03 17:32 GMT-5
Fix issues due to changes in HTML make by Google
~~~~~~~~~~~~~~~~~~~~~~~~~~~~~~~~~~~~~~~~~~~~~~~~~~~~~~~~~~~~~~~~~~~~
MACRO: KM Wiki -- Google Search and Return Markdown Link in Forum Post
@KMF
-~~~ VER: 3.0 2020-10-03 ~~~
Requires: KM 8.2.4+ macOS 10.11 (El Capitan)+
(Macro was written & tested using KM 9.0+ on macOS 10.14.5 (Mojave))
DOWNLOAD Macro File:
KM Wiki -- Google Search and Return Markdown Link in Forum Post @KMF.kmmacros
Note: This Macro was uploaded in a DISABLED state. You must enable before it can be triggered.
---
Example Workflow/Output
This whole process takes < 30 seconds, in most cases.
1. Start in Reply to Forum Post
2. Enter/Select Search Terms
Type Search Terms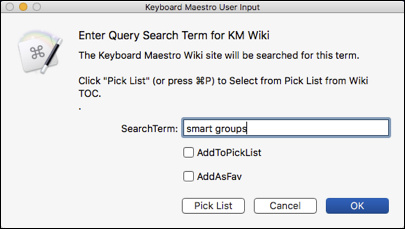 OR, Pick from List with Autocomplete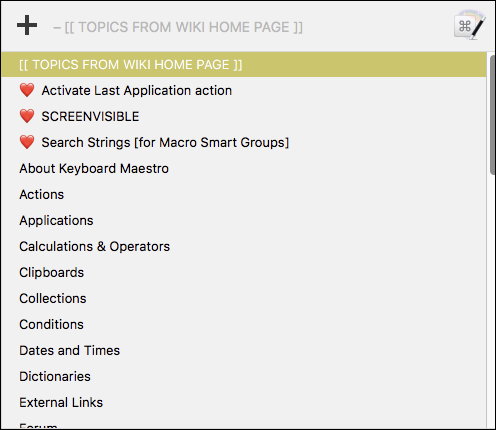 3. Choose Link by Number from Search Results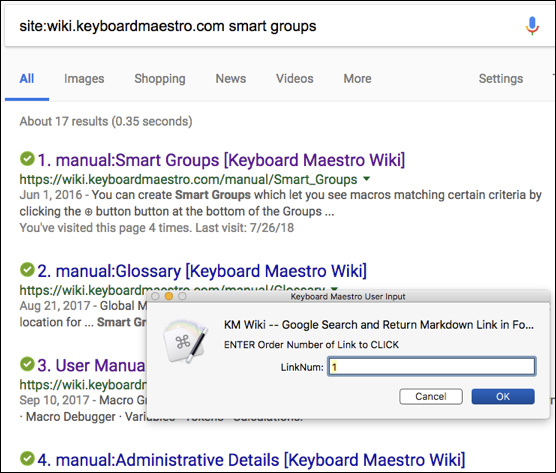 4. Choose KM Wiki Article & Return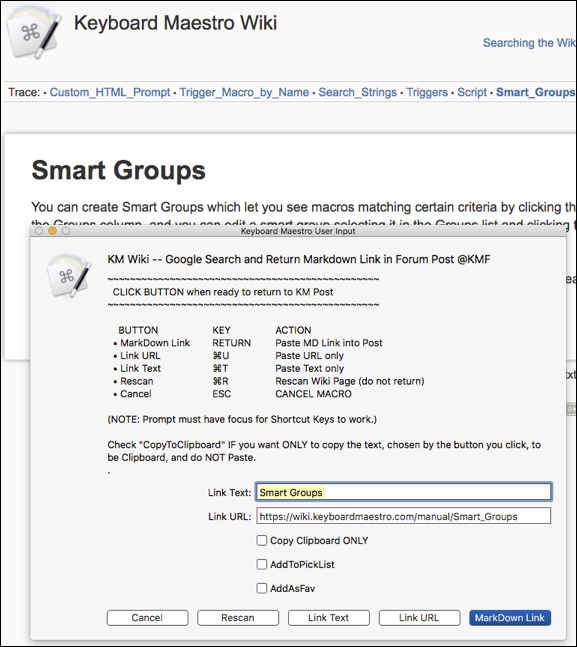 Close Tabs Added in this workflow
5. Paste Markdown Link into Forum Post

---
ReleaseNotes
Author.@JMichaelTX
PURPOSE:
Make it Easy to Find and Get MD Link to KM Wiki Articles
(most often used in the KM Forum when answering questions).

Works in Either Safari or Chrome (tested in both)
HOW TO USE:
Create a Forum Reply (or new Topic)
Optionally Select Text as KM Wiki Keyword
Trigger this macro
IF you Selected text,
it will set the Wiki Search Term to that selected text
ELSE, you will be prompted to enter or select terms from a list
Do a Google Site Search using those terms
Script will Number Google Search Results
Enter Link# on Results Page to open that Wiki Article
OR
Press ESC to CANCEL Macro.
Macro will prompt you for the type of return:
Markdown Link (default button)
Text of Web Page
URL of Web Page
Check the box for "Set to Clipboard ONLY" to set the clipboard, and NOT paste results.
If you want to goto another Wiki page, do so manually, and when ready,
click on the "Rescan" button to scan that page in update the KM Prompt.
Click any button (other than "Cancel") to return to your Forum Post and the results will be pasted into the Forum Post.
MACRO SETUP
Carefully review the Release Notes and the Macro Actions

Make sure you understand what the Macro will do.
You are responsible for running the Macro, not me.
.

Assign a Trigger to this maro. I prefer ⌃⇧K
Move this macro to a Macro Group that is only Active when you need this Macro. I prefer "Browsers"
Enable this Macro (if needed).
You MUST have enabled/checked "Allow JavaScript from Apple Events" in Safari and Chrome.
.
REVIEW/CHANGE THE FOLLOWING MACRO ACTIONS:
(all shown in the magneta color)

SET Search URL to Your Preferred Search Provider
SET List of Wiki Search Terms

Default is list of sections from the KM Home Page
REQUIRES:
Keyboard Maestro 8.2.3+
macOS Yosemite 10.11.3+
Either Safari or Chrome
You MUST have enabled/checked "Allow JavaScript from Apple Events" in Safari and Chrome.
USER SETTINGS:
Any Action in magenta color is designed to be changed by end-user
ACTION COLOR CODES
To facilitate the reading, customizing, and maintenance of this macro,
key Actions are colored as follows:
GREEN -- Key Comments designed to highlight main sections of macro
MAGENTA -- Actions designed to be customized by user
YELLOW -- Primary Actions (usually the main purpose of the macro)
ORANGE -- Actions that permanently destroy Varibles or Clipboards,
OR IF/THEN and PAUSE Actions
REQUIRES:
Keyboard Maestro Ver 7.3+ (don't even ask me about KM 6 support).
El Capitan 10.11.6+
It make work with Yosemite, but I make no guarantees.
USE AT YOUR OWN RISK
While I have given this limited testing, and to the best of my knowledge will do no hard, I cannot guarantee it.
If you have any doubts or questions:

Ask first
Turn on the KM Debugger from the KM Status Menu, and step through the macro, making sure you understand what it is doing with each Action.