Test system: Late 2014 5k iMac, macOS 10.12.6, KM 8.0.1
###Bug 1
Since upgrading to KM8, a number of macros have been displaying the App Translocation error:


None of the suggested fixes for App Translocation (moving KM in the Finder, running xattr -dr com.apple.quarantine "/Applications/Keyboard Maestro.app") have worked, nor does examining either KM or the KM Engine in Activity Monitor show App Translocation to be in effect: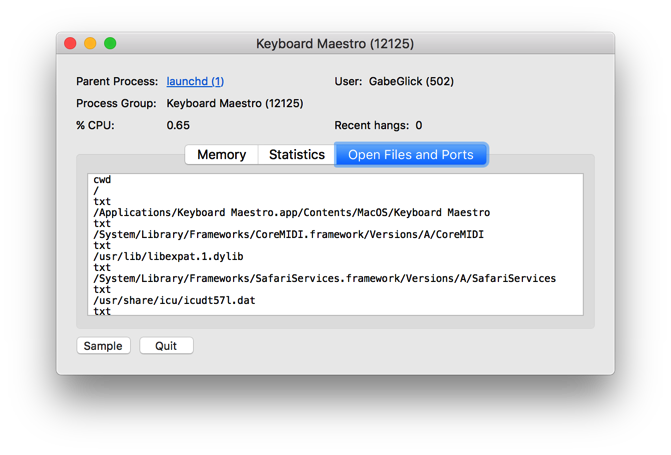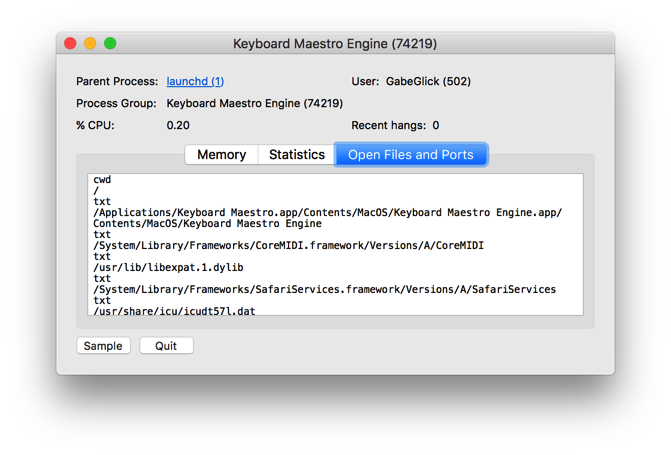 Nor does the new KM8 Assistance window indicate translocation to be an issue:

Fortunately, this doesn't seem to have actually affected any of my macros, as they all run just as well now as they did before upgrading, so this bug so far seems like more of a curiosity than anything else.
###Bug 2
As you can see in the first screenshot, "operation" is misspelled "opertion" in the aforementioned translocation error (I considered pulling a @Tom for this one, but decided against it

)
###Bug 3
Unlike the other two bugs, this one actually has affected me negatively: when using the Insert Token, Variable, or Function search field shortcuts (⌃⌘T, ⌃⌘V, and ⌃⌘F, respectively) to insert tokens, variables, or functions into text fields (either plain text or variable fields), the editor has not been saving what I inserted. To reproduce:
Start editing an action with a text field.
Invoke an Insert … shortcut and select something to insert.
Fortunately, this only appears to be a problem with the new search field shortcuts; using the menu commands for the equivalent function still works as intended. Has anyone else run into this bug, or am I the only one seeing this behavior?