Thanks for the 8.0.1 update, @peternlewis.
As a note: Local variables (e.g. Local VarName) are still dysfunctional in the shell action (they are not in the env).
While testing this I noticed something strange. I don't know whether this was always like that or it is new in KM8:
I have two variables that are undeleteable: "Password" and "Variable"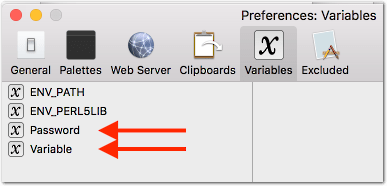 The value of "Password" is Password, "Variable" is empty.
These two are not showing up in the environment variable either.
However (the more interesting part): Once I assign a value to the "Variable" variable it appears in the env in two instances:
The first one ("KMVAR_Variable") is expected, but the second one ("KMVAR_Variable_") is not expected. (Note the trailing underscore of the second one.)
Furthermore: When I close and reopen the "Preferences: Variables" window I now see two instances of "Variable" in that window:
When I delete one of them both disappear and a new empty "Variable" variable is created.
Note:
I don't have any issues with the strange behavior of that "Variable" variable, I'm posting this just in case that behavior has something to do with the local variables not being sent to the environment.