Hello!
I'm using KM 6.4.8 on MacOS Sierra (10.12.3) and want to have Keyboard Maestro Engine start at login. So in KM preferences I selected "Launch Engine at Login". Doing so adds the "Keyboard Maestro Engine" to the Login Items list as expected (as seen below).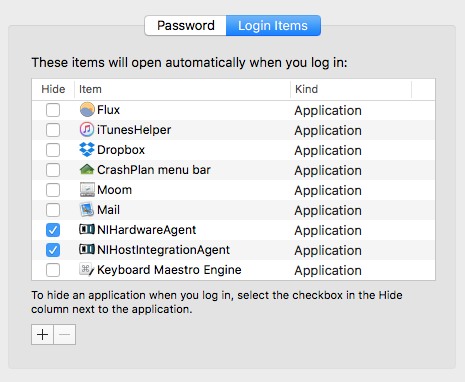 Unfortunately upon rebooting the computer KM doesn't launch. Checking System Preferences reveals that the Engine is still in Login Items, however is missing or has a problem (triangle).
Launching Keyboard Maestro (Editor) manually fixes the issue and reestablishes the correct link in System Preferences but that doesn't change the fact that upon rebooting the machine the Engine doesn't start.
The ENGINE Log doesn't reveal any entries relating to the launch daemon. However the EDITOR log does show the following entry after the manual launch of KM after a reboot:
DaemonLoginStatus::EnsureCorrectDaemonLoginStatus reset Daemon Login Status after any 1 good 0
I am having exactly the same issue running on a second computer with exactly the same OS and KM version.
Do you have any suggestions on how to fix this?
Thanks!
David