I have this very simple macro that can be executed from a pallet that is displayed when a certain dialogue box is opened. It selects all text in an input box and reduces the selection with one character at the end of the selection: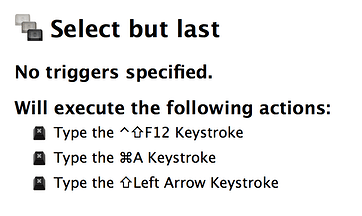 It would be nice if this macro can be used multiple times, each time the selection will be further reduced with one extra character (from the right).
How can I achieve this?
I can think of this solution, but find it a little clumsy (a lot of code):
Set a variable firstExecution is True when the macro is executed one time, make sure that the CMD+A isn't executed if firstExecution is True.
Create a second macro that is triggered when the specific dialogue box is closed and that sets the variable firstExecution to False again.
Perhaps it is better to use a counter.
Edit: How about this approach: first I determine the length of any existing selection. Then I simulate Command+A and determine the length again. If the first selection is smaller, I reduce the selection by the difference plus one.