iMac Pro, Catalina.
I have a fairly simple macro which opens the "printers and scanners" prefs pane, clicks some buttons to initiate a nozzle check and closes the prefs pane. I want it to run once a day, to keep, or at least help keep, the nozzles from clogging (it's an Epson SC-P7500).
It works just fine when I activate it using a keystroke, and on timer if I'm using the iMac when the timer triggers. But if the iMac is unattended, it fails with the attached message. The iMac is set to dim the display after 10 minutes of inactivity, but it never sleeps.

I suspect the reason is that although the iMac never sleeps, it does require a password when the displays reactivate. Is there a way round that? For security reasons, I'm reluctant not to require the password, although I wouldn't mind including it in the macro so it could be typed into the login window by KM, if that would help.
The macro looks like this: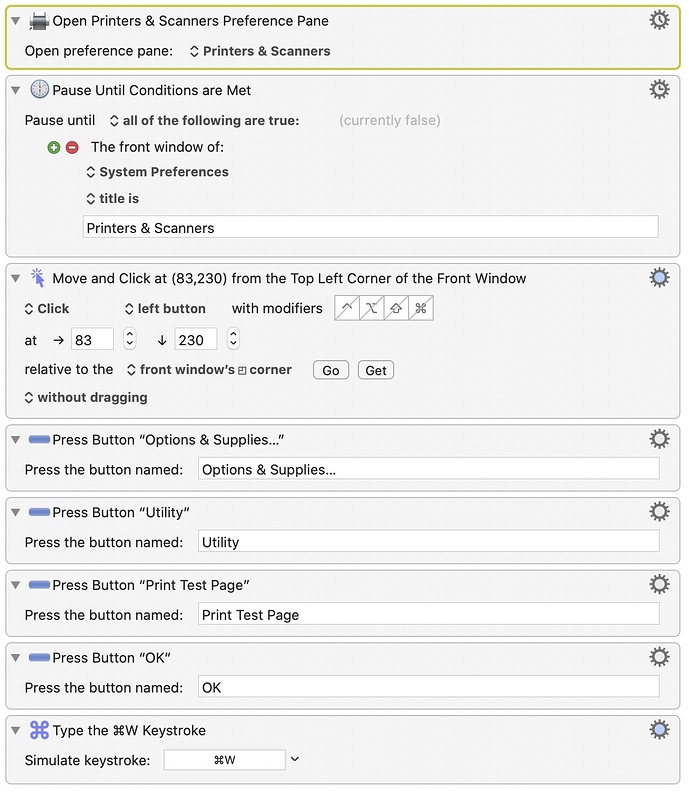 Any suggestions gratefully received.
Jeremy