Hello There,
I'd like macro groups to conditionally (de)activate based on multiple conditions.
For example, Cmd+U will toggle dual mode in Total Finder and do nothing in regular Finder.
Disclaimer: I could probably get around my use case in some other way, however, I have a bunch more of these - so suggesting changes to my workflow won't help me.
I have:
I want: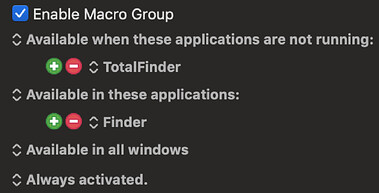 ... basically, I'd like the hotkey to register conditionally akin to AutoHotkey's #IfWinExist/#IfWinActive
I take it that this is not currently possible by default means?

What viable workarounds are there?
2.1. I could run a macro or loop that checks if TotalFinder is active and launches it for me
2.2. I could put the macro into the "active in Finder"-macro group, then do a conditional check if TotalFinder is active. If it is, then I could disable the macro for as long as it takes me to send Cmd+U through to the application, or have KeyboardMaestro trigger the menu entry "by hand".
2.3. ...?
Suggestions...?
Feel free to disregard if not wanted...
Let Hotkey Pass Through
(Is this already possible?)
Fine Tuning
It would be great if macro group conditions, macro conditions and if-conditionals would work the same way for the sake of persistence.
That would also let users (me) (dis)able macro groups by variable and allow greater flexibility.
Thank you for your consideration