Continuing the discussion from Default folder location for Prompt for File action?:
Use Case
KM provides the Action Prompt for File.
Unfortunately, it does not allow the user to specify either the default folder nor the prompt text
This Macro provides both.
KM VARIABALES USED (optionally):
	• Local__ParentFolder 		[default]: defaults to last file open folder
	• Local__ChooseFilePrompt	[default]: "Choose FILE for KM Macro"
	• Local__FileType			[default]: ['public.item']

---
Example Output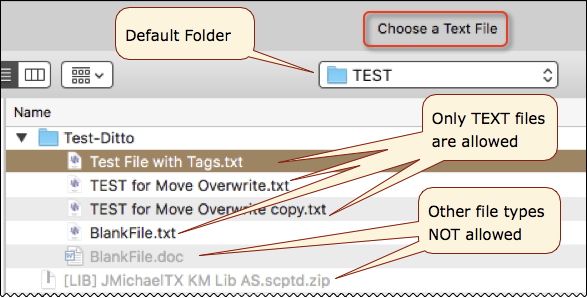 Output only for Demo


---
MACRO:   Choose File using JXA
@TEST
~~~ VER: 1.0    2019-05-05 ~~~
DOWNLOAD:
Choose File using JXA @TEST.kmmacros (25 KB)
Note: This Macro was uploaded in a DISABLED state. You must enable before it can be triggered.
---
ReleaseNotes
Author.@JMichaelTX
PURPOSE:
Provide KM Action/Script to Choose File

Provide Options for:

Default Folder
Prompt for Choose Dialog
Restriction of File Types Allowed
HOW TO USE
First, make sure you have followed instructions in the Macro Setup below.
Copy the Yellow Group Action "GRP: Actions to Choose File" into your Macro
Change Each of the Three Parameters as needed for your Macro
You can run this Macro as a demo if desired
MACRO SETUP
Carefully review the Release Notes and the Macro Actions

Make sure you understand what the Macro will do.
You are responsible for running the Macro, not me. ??
.
Assign a Trigger to this maro.
Move this macro to a Macro Group that is only Active when you need this Macro.
ENABLE this Macro.
.
REVIEW/CHANGE THE FOLLOWING MACRO ACTIONS:
(all shown in the magenta color)

Set OPTIONAL Parameters for Choose File Script
REQUIRES:
KM 8.2+
macOS 10.11.6 (El Capitan)
TAGS: @ChooseFile @Files @JXA @Scripting
USER SETTINGS:
Any Action in magenta color is designed to be changed by end-user
ACTION COLOR CODES
To facilitate the reading, customizing, and maintenance of this macro,
key Actions are colored as follows:
GREEN -- Key Comments designed to highlight main sections of macro
MAGENTA -- Actions designed to be customized by user
YELLOW -- Primary Actions (usually the main purpose of the macro)
ORANGE -- Actions that permanently destroy Variables or Clipboards,
OR IF/THEN and PAUSE Actions
USE AT YOUR OWN RISK
While I have given this a modest amout of testing, and to the best of my knowledge will do no harm, I cannot guarantee it.
If you have any doubts or questions:

Ask first
Turn on the KM Debugger from the KM Status Menu, and step through the macro, making sure you understand what it is doing with each Action.
---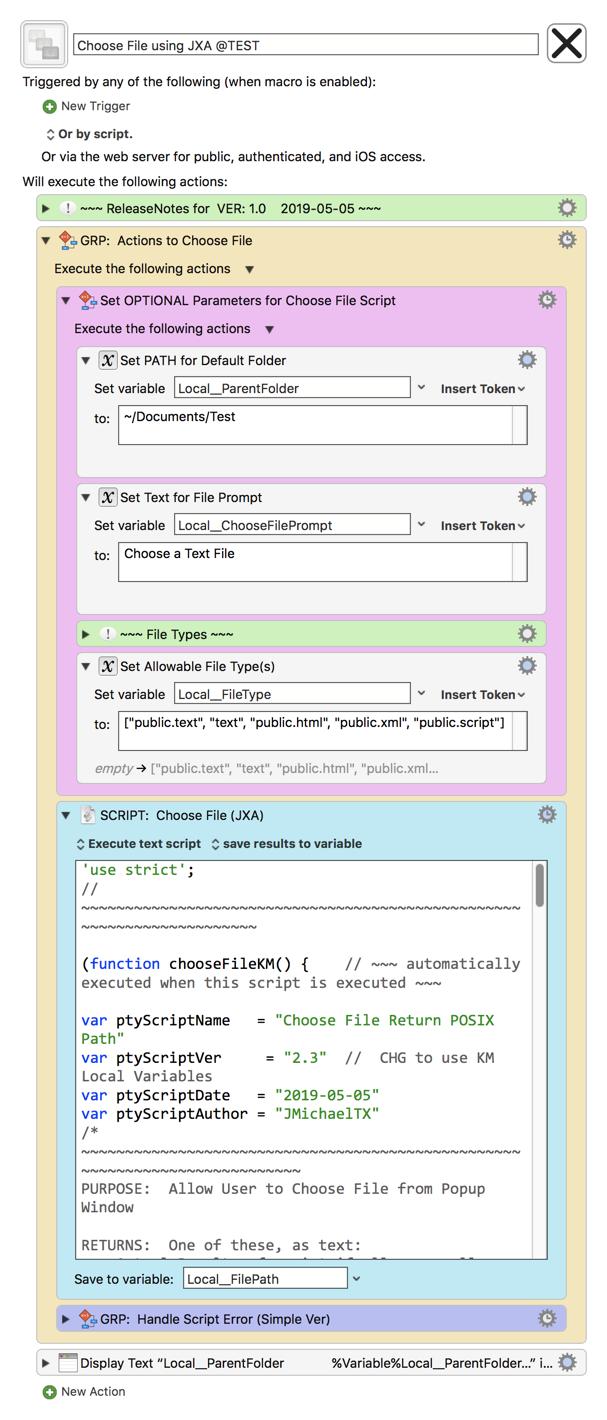 ~~~~~~~~~~~~~~~~~~~~~~~~~~~~~~~~~~~~~~~~~~~~~~~~~~~~~~~~~~~~~~~~~~~~~~~~~~~~~~~~~~~
JXA Script to Choose file
'use strict';
//~~~~~~~~~~~~~~~~~~~~~~~~~~~~~~~~~~~~~~~~~~~~~~~~~~~~~~~~~~~~~~~~~~~~~~

(function chooseFileKM() {    // ~~~ automatically executed when this script is executed ~~~
  
var ptyScriptName   = "Choose File Return POSIX Path"
var ptyScriptVer     = "2.3"  //  CHG to use KM Local Variables
var ptyScriptDate   = "2019-05-05"
var ptyScriptAuthor = "JMichaelTX"
/*
~~~~~~~~~~~~~~~~~~~~~~~~~~~~~~~~~~~~~~~~~~~~~~~~~~~~~~~~~~~~~~~~~~~~~~~~~~~
PURPOSE:  Allow User to Choose File from Popup Window

RETURNS:  One of these, as text:
  • Actual Results of script if all goes well
    • POSIX path to selected file
    
  • "[USER_CANCELED]" at start of results if the user canceled something
  • "[ERROR]" at start of results if a script error occurred.
  
AUTHOR:  @JMichaelTX

KM VARIABALES REQUIRED:
  • Local__ParentFolder       [optional]: defaults to last file open folder
  • Local__ChooseFilePrompt  [optional]: "Choose FILE for KM Macro"
  • Local__FileType            [optional]: ['public.item']
  
  
TAGS:  @File @Prompt @Choose @Script @KM @JXA

~~~~~~~~~~~~~~~~~~~~~~~~~~~~~~~~~~~~~~~~~~~~~~~~~~~~~~~~~~~~~~~~~~~~~~~~~~~
*/

var scriptResults = "TBD"  // Set your results to this var


try {
  //~~~~~~~~~~~~~~~~~~~~~~~~~~~~~~~~~~~~~~~~~~~~~~~~~~~~~~~~~~~~~~~~~~~~~~~~~~~
  
  // --- SET CURRENT APP VARIABLE NEEDED FOR DIALOGS & StandardAdditions.osax ---
  var app = Application.currentApplication()
  app.includeStandardAdditions = true
  
  //--- SET SYSTEM UI SERVER FOR USE WITH DIALOGS IN KM ---
  var susApp = Application('SystemUIServer');
  susApp.includeStandardAdditions = true;

  
  // --- SET KME APP VARIABLE NEEDED TO GET/SET KM VARIABLES ---
  //      (remove if not needed)
  var kme = Application("Keyboard Maestro Engine");  
  var kmInst = app.systemAttribute("KMINSTANCE");

  
  //--- GET KM VARIABLES ---  
  var defaultFolderPath   = kme.getvariable("Local__ParentFolder",  {instance: kmInst})       //|| "~/Documents";
  var choosePrompt         = kme.getvariable("Local__ChooseFilePrompt",  {instance: kmInst})   || "Choose FILE for KM Macro";
  var fileTypeStr         = kme.getvariable("Local__FileType",  {instance: kmInst})           || "public.item";

  fileTypeStr  = fileTypeStr.replace(/[\[\]"']/g, '');
  var  fileTypeList = fileTypeStr.split(/, |,/g)
    
  susApp.activate();
  
  if (defaultFolderPath === "") {
    
    var myFile = susApp.chooseFile({ 
      withPrompt:       choosePrompt,
      ofType:           fileTypeList
      })
      
  }
  else {
  
    defaultFolderPath = defaultFolderPath.replace("~", app.pathTo("home folder").toString())
  
    var myFile = susApp.chooseFile({ 
      withPrompt:       choosePrompt,
      defaultLocation:   defaultFolderPath,
      ofType:           fileTypeList
      })
    
  }
    
    /*
      Other File Types:
        • All File Types: ['public.item']
        • File Extension:  Use ext without period, like ["aup"]
        • Images:   ['public.jpeg', 'public.png']
        • Text:    ["public.text", "text", "public.html", "public.xml", "public.script"]
        • MS Word Documents:
            ["com.microsoft.word.doc", "com.microsoft.word.docx", "org.openxmlformats.wordprocessingml.document", "org.openxmlformats.wordprocessingml.document.macroenabled"]
        • see Apple System-Declared Uniform Type Identifiers for other "type" values
          https://developer.apple.com/library/ios/documentation/Miscellaneous/Reference/UTIRef/Articles/System-DeclaredUniformTypeIdentifiers.html
    */
    
  scriptResults = myFile.toString();
  
  //~~~~ END TRY ~~~~~~~~~~~~~~~~~~~~~~~~~~~~~~~~~~~~~~~~~~~~~~~~~~~~~~~~~~~~~~~~~~~~~~~

} catch (oError) {
  
  var msgLog;
  
  if (oError.errorNumber === -128) {  // User Canceled
  
    scriptResults =  "[USER_CANCELED]\n\n"
      + "SCRIPT: " + ptyScriptName + "   Ver: " + ptyScriptVer;
      
    msgLog = "User Canceled";
  }
  
  else {
    scriptResults = "[ERROR]\n\n"
      + "SCRIPT: " + ptyScriptName + "   Ver: " + ptyScriptVer + "\n"
      + "Error Number: " + oError.errorNumber + "\n"
      + oError.message
      
    msgLog = oError.message;
    
  } // END if/else
  
  
} // END catch
//~~~~ END TRY/CATCH BLOCK ~~~~~~~~~~~~~~~~~~~~~~~~~~~~~~~~~~~~~~~~~~~~~~~~~~~~~~~~~~~~~~~~~~~~~~~

return scriptResults

//======================== END OF MAIN SCRIPT =============================================



})();  // ~~~ function is automatically executed when this script is executed ~~~