When I get a certain Hazel Rule Match on my Mac the same Hazel rule has a final action that starts an Applescript that calls a KM Macro. As below: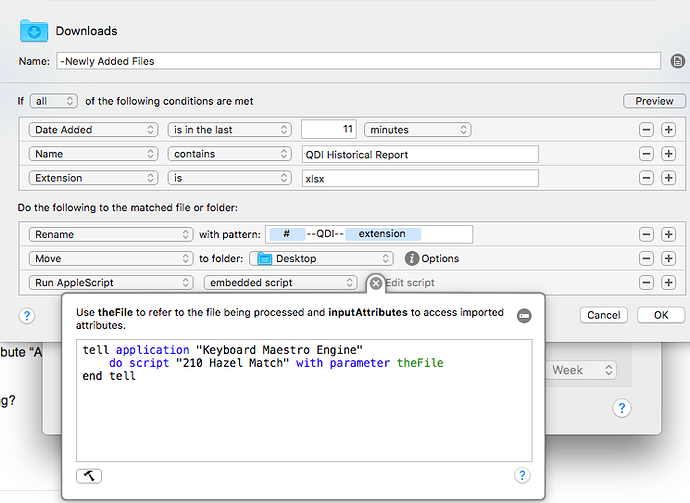 This works fine but only for an unpredictable number of iterations (I've seen 20 iterations work and later I've seen 150 work). Eventually it fails with the following errors. Any ideas as to why this fails? Thanks.
From the KM Engine Log:
2018-06-14 07:25:41 Launch Task /Applications/Keyboard Maestro.app/Contents/MacOS/Keyboard Maestro Engine.app/Contents/MacOS/CompileAppleScript string failed
From the Hazel Log:
2018-06-14 07:27:31.108 hazelworker[90747] [Error] AppleScript failed: Error executing AppleScript on file /Users/abbott/Desktop/344—QDI Historical Report.xlsx.
2018-06-14 07:27:31.109 hazelworker[90747] OSAScript error: {
NSLocalizedDescription = "Keyboard Maestro Engine got an error: AppleEvent timed out.";
NSLocalizedFailureReason = "AppleEvent timed out.";
OSAScriptErrorAppAddressKey = "<NSAppleEventDescriptor: [0x0,296e96c "Keyboard Maestro Engine"]>";
OSAScriptErrorAppNameKey = "Keyboard Maestro Engine";
OSAScriptErrorBriefMessageKey = "AppleEvent timed out.";
OSAScriptErrorMessageKey = "Keyboard Maestro Engine got an error: AppleEvent timed out.";
OSAScriptErrorNumberKey = "-1712";
OSAScriptErrorRangeKey = "NSRange: {0, 0}";
}