Writing Keyboard Maestro Clipboard History Items to a File
---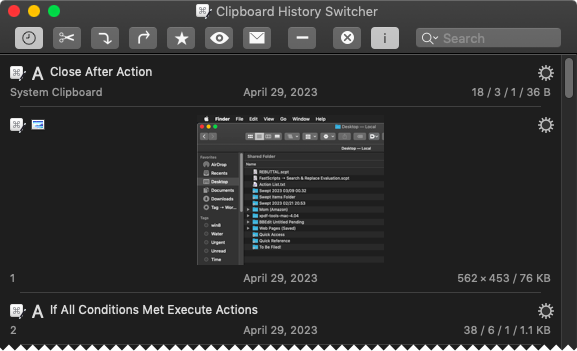 ---
Write the selected image to a file:
Edit 2023/04/29 03:01 CDT – See Post #2 for a superior macro...
You may have to retake the [Close After Action] button image for system.
The write image macro is slightly cumbersome, because the selected image will move to the top of the history when you run it.

You can set the image to be deleted at the bottom of the macro.

The image title is presently just a date-stamp.
The image format is presently PNG.
---
Download: Write Image of Selected Clipping in KM Clipboard History Window to File on Desktop v1.00.kmmacros (22 KB)
Macro-Image
Macro-Notes

Macros are always disabled when imported into the Keyboard Maestro Editor.

The user must ensure the macro is enabled.
The user must also ensure the macro's parent macro-group is enabled.

---
System Information

macOS 10.14.6
Keyboard Maestro v10.2
---
Write the selected text to a file:
The clipping name is presently up to 50 characters of the first line of the text.
---
Download: Write Text of Selected Clipping in KM Clipboard History Window to File on Desktop v1.00 copy.kmmacros (11 KB)
Macro-Image
Macro-Notes

Macros are always disabled when imported into the Keyboard Maestro Editor.

The user must ensure the macro is enabled.
The user must also ensure the macro's parent macro-group is enabled.

---
System Information

macOS 10.14.6
Keyboard Maestro v10.2
---