With a little AppleScript you can do things with KM's Display Text window. (This is the window that is created by the Display Text action.)
# tell application "Keyboard Maestro Engine" to activate # Only needed when another app is frontmost
tell application "System Events"
  tell application process "Keyboard Maestro Engine"
    tell window "Keyboard Maestro - Display Text"
      set position to {20, 45}
      set size to {500, 309}
      tell button "OK" to set focused to true
    end tell
  end tell
end tell

[See the post below for the script as plug-in action.]
‌‌
The script …
moves the window towards the upper left corner of the screen
sets it to a fixed size
gives focus to the OK button, so that it responds to a single press of the Return key
Set the desired values for size and position in the script. If you don't need any of the three features, comment out the corresponding line.
Put the script into an Execute AppleScript action after the Display Text action.
If there is something that pushes away the window from the foreground (e.g. another action), then you have to uncomment the first line of the script to make the window frontmost again.
---
Here is an example macro with the script: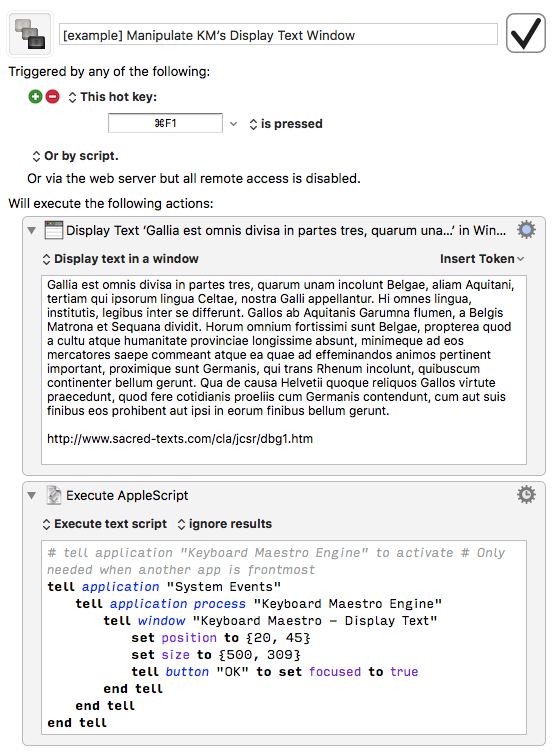 [example] Manipulate KM's Display Text Window.kmmacros (5.1 KB)
‌↓ See the post further below for an improved version (plug-in action) ↓