In Safari or Firefox, we use Cmd + or Cmd - to zoom text.
I am trying to see if I can use KM to create such a macro to zoom in Excel and Word. The problem is, in both Excel and Word, the Menu item has Zoom, when you click them, a dialog box appear: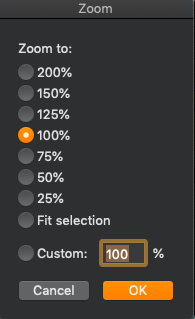 No one use this dialog box because it requires many clicks. Instead, every one use the mouse to adjust it in the status bar:


I don't think I should use a KM macro on mouse pointer or as the Word or Excel window is not in a fix position. Any tips on how I should approach this? I want to be able to simulate the same behavior of tapping Cmd + and the zoom will increase by 10%.
It sounds like serious KM-fu is needed !