I typically use 3 monitors and I'd like to use Keyboard Maestro to move the active Chrome tab from a browser window on one screen to a browser window on a different screen.
Chrome doesn't have a shortcut to convert the current tab into its own window, but the Vimium extension includes the shortcut Shift+W which does this.
I can also already move windows to specific screens using this approach: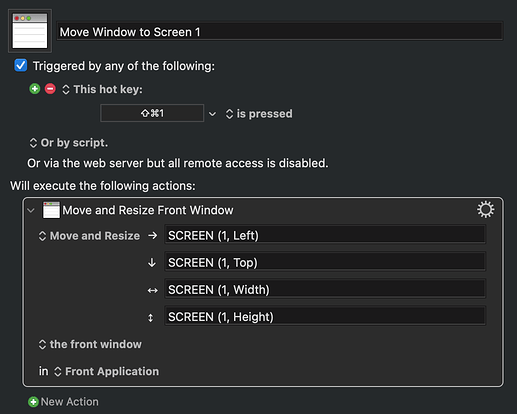 Here's my entire approach so far, which I've attached below:
Shift+W -- make current tab its own window
Pause for 5 hundredths of a second for potential loading
Run the above approach to send that window to the desired screen
Pause for 5 hundredths of a second for potential loading
Using the Record button, I learned of the Move and Click and Drag action, which I use to drag the tab to where it should be released so that it joins the other tabs of the browser on the other screen.
Move Tab to Window 1.kmmacros (3.6 KB)
This approach works when sending tabs to screen 1, but I haven't been able to get it to work for moving tabs to screen 2 or screen 3. They get to where they need to be but don't get integrated in the browser window for some reason. For example, the image below shows the end position of a tab that was sent from a different screen, but it doesn't get added to the tabs of the window behind it. If I grab that tab with my mouse and move it even 1 pixel, it gets integrated with the window behind, so I'm not sure why it's not working when Keyboard Maestro does it.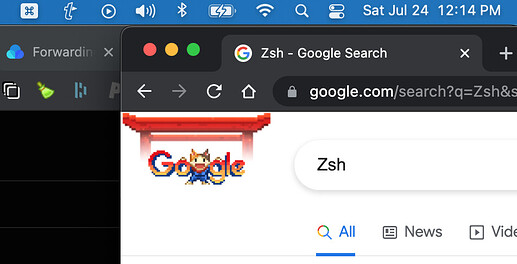 Does anyone have a theory as to why this approach would work when sending a tab to one screen but not to others? If anyone can think of an alternative way of doing this, please let me know. I'm not attached to my approach.
Also, out of curiosity, when I record a macro that does all of these steps, it performs even worse. My guess as to why is that the record function seems to reproduce actions as rapidly as possible and maybe doesn't account for critical loading time along the way. Is there a way to make the macro record the time it takes to do actions as well?