Hi all,
I've been trying to accomplish this with a number of tools, but cannot seem to grasp the KM logic here and I'm pretty sure Hazel cannot do what I am looking for.
My goal is to have a kind of Sorter folder. The folders dropped into this "sorter" will sometimes have many subfolders each containing a mix of movie, photo, and text files (sometimes other files as well). When another folder is dropped into this sorter, let's call it Folder A, I would like all of its contents and sub-contents to be moved to the top level and then I would only like to keep the photo and video files. In other words, I would like Folder A to have only videos and photos when I open it it—with all other file types and empty folders removed.
Here is a photo for reference of what the folder structure might look like when I drop folder A into the "sorter" folder.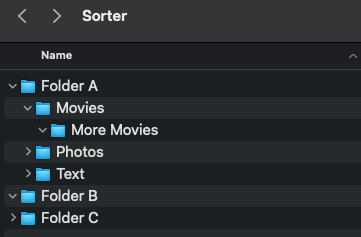 If for example, there were movie files in the those subfolders, I would want them moved into Folder A's top level like this: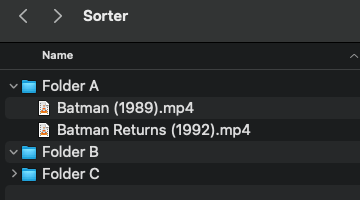 I'm wondering how to best make a KM script that will go into the subfolders and essentially move everything up to the top level. I want to ensure that all those single files that move up are contained with the top level of Folder A and do not move into the top-level of the Sorter folder (if that makes sense). I was not able to do this with hazel and have tried and failed miserably with KM.
Any help is much appreciated!