This is a variant on @peternlewis's Create Text Expansion From Selection macro.
What it does
It creates a new text expansion macro from selected text (as plain text).
The macro runs only with KM 8 or newer.
How to
In any application, select the text you want to create an abbreviation for.
Launch the macro via hotkey
Enter the abbreviation in the user prompt.

You'll see the abbreviation field pre-populated with a semicolon ;. This is the default abbreviation prefix and you can change it in the macro.

Make any adjustments if needed. You can adjust this in the user prompt:

Insert by…
Case…

sensitive [default]
case insensitive
case affects expansion
regular expression

Match…

after any character
after word break

The "Match after" setting will remember your last choice, for the other settings you can change the default in the macro.

Hit Return
A new text expansion macro should now be created.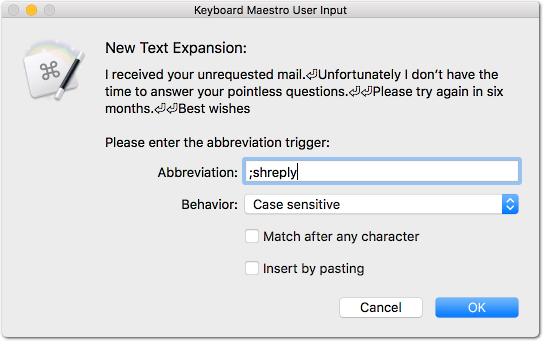 Extra Features
The new text expansion macro will be created in the same macro group where this macro lives. That is, you can drag a copy of this macro into any/each group (for example Global group, BBEdit group, MS-Word group, etc.) to create app-specific text expansion macros on the fly.
The name of the expansion macro will be generated from the expansion text. It will be sanitized a bit:

Linebreaks are replaced by the ⏎ glyph
Tabs are replaced by spaces
Length truncated
Note
Initially this macro was just a short test for the new AppleScript classes of the KM-8 Editor (macro, macro group, action, etc.). So, the macro has not seen much real-life testing ;).
Here an excerpt from the contained AppleScript with some of the new classes:
[…]
tell application "Keyboard Maestro"
    tell macro group id groupID
        make new macro with properties {id:macroID, name:macroName}
    end tell
    tell macro id macroID
        make new action with properties {xml:theAction}
        make new trigger with properties {xml:theTrigger}
    end tell
end tell

The macro also uses the new %RandomUUID% token
---
New Text Expansion From Selection.kmmacros (15.6 KB)