Also the two fingers have to be a certain distance apart.
What does a two-finger click do?
Please provide details. Once we understand this, it is likely that KM can simulate it.
It's equivalent to right and left click in PC. A one finger click usually takes you to a new webpage, a two finger click opens up a drop down box where you can save an image or link, copy an image or link, open link in new tab, open link in new window, etc
If I understand you correctly, and you just want to simulate a right/control click via KM, you can add this Move or Click Mouse action to your macro:


This sounds like the "context menu", which can be shown by either a right-click or a CTRL-click. However, I believe this behavior can be changed in System Preferences.
Assuming the "two-finger click" is the same as a "right-click", you can simulate this in KM as follows: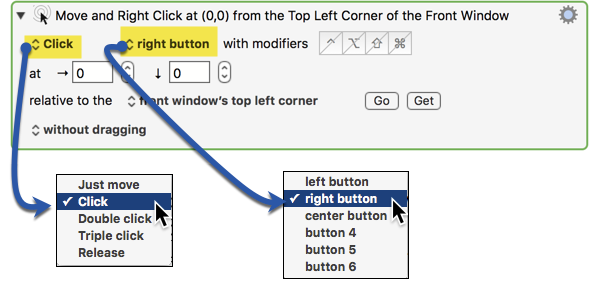 As you can see, you have numerous choices for the type of click, and which button is used.
In addition,
You can specify keyboard modifiers that are held down at the time of the click.
Specify the relative location of where to click.
For more details, see Move or Click Mouse action (KM Wiki)
I think this should handle you needs. If not, just let us know.
Thanks that did it. I appreciate you taking the time to help me out.