Use Case
WebScrape a URL in the Background
Demo of Entire Process
Note that the new Tab never appears
The Entire process is run in the Background
If Google Chrome was hidden before the macro was triggered, it would continue to be hidden.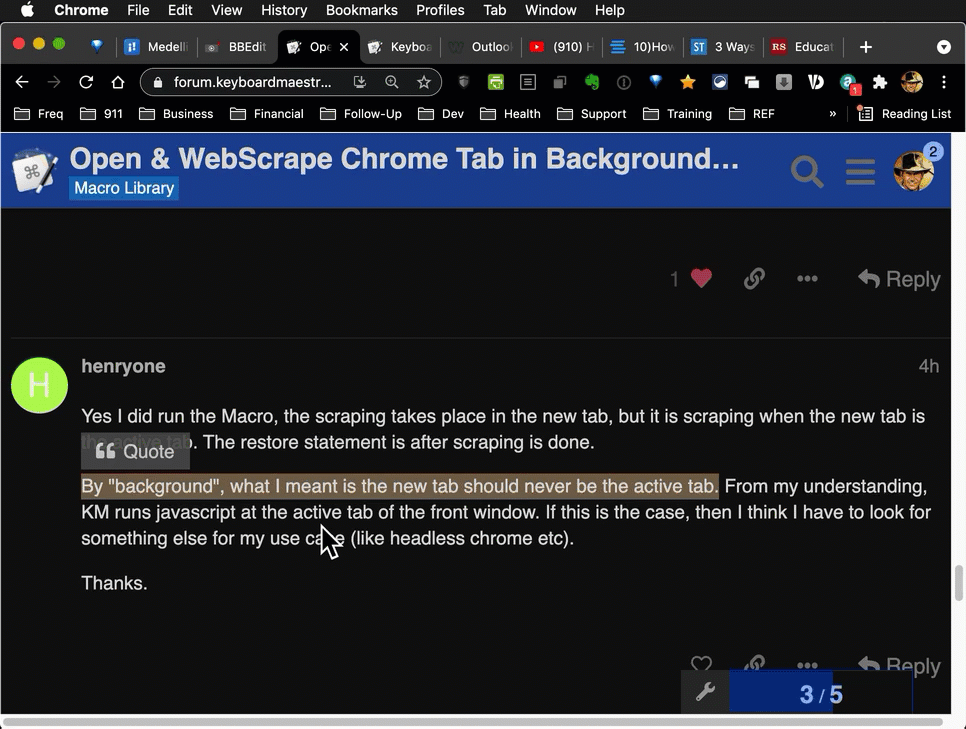 ~~~~~~~~~~~~~~~~~~~~~~~~~~~~~~~~~~~~~~~~~~~~~~~~~~~~~~~~~~~~~~~~~~~~
MACRO: Open & WebScrape Chrome Tab in Background [Example]
UPDATED: 2021-05-30 16:30 GMT-5
Ver 2.1 script was rewritten to ensure the new tab never appears.
Now the entire process is run in the background.
See above demo.
-~~~ VER: 2.1 2021-05-30 ~~~
Requires: KM 8.2.4+ macOS 10.11 (El Capitan)+
(Macro was written & tested using KM 9.0+ on macOS 10.14.5 (Mojave))
DOWNLOAD Macro File:
Open & WebScrape Chrome Tab in Background [Example].kmmacros
Note: This Macro was uploaded in a DISABLED state. You must enable before it can be triggered.
Macro was uploaded with a trigger of ⌃F1. Change to whatever you want.
---
ReleaseNotes
Author.@JMichaelTX -- based on script by Chris @ccstone
PURPOSE:
Open & WebScrape Chrome Tab in Background [Example]
HOW TO USE
First, make sure you have followed instructions in the Macro Setup below.
See the below "How to Use" Comment Action
This macro is just an example written in response to a user's request. You will need to use as an example and/or change to meet your workflow automation needs.
MACRO SETUP
Carefully review the Release Notes and the Macro Actions

Make sure you understand what the Macro will do.
You are responsible for running the Macro, not me. ??
.
Make These Changes to this Macro
Assign a Trigger to this Macro .
Move this macro to a Macro Group that is only Active when you need this Macro.
ENABLE this Macro, and the Macro Group it is in.

For more info, see KM Wiki article on Macro Activation
.
REVIEW/CHANGE THE FOLLOWING MACRO ACTIONS:
(all shown in the magenta color)

CHANGE to URL that you want to open and webscrape
CHANGE to JavaScript to WebScrape Above Web Page

AppleScript uses a 2 sec pause after URL is opened.
REQUIRES:
KM 9.0+ (may work in KM 8.2+ in some cases)
macOS 10.12.6 (Sierra)+
TAGS: @Example @WebScrape @Backgound @Chrome