OS X Accessibility Inspector (UIElementInspector) Tool for UI Scripting
---
UPDATED: 2019-03-07 21:28 GMT-6
Since I posted this topic nearly 3 years ago, I've learned a lot.
So, I no longer recommend this tool, as it does not work with all macOS's.
Instead, I suggest you try one of these tools:
UIElementInspector provided as part of the free Xcode download (as @Tom suggests)
Use the AppleScript tool by Chris @ccstone
Front Window Analysis Tool for System Events
For more complex UI scripting, you will benefit from UIBrowser, which works will all macOS including Mojave.
---
Sometimes an app, or even the OS X system itself, does NOT provide a direct scripting element that allows you to achieve your objective. You may then need to resort to UI scripting.
Here is a free tool, provided by Apple, that will help you identify the UI elements you need to script:
Official Name: UIElementInspector
Alternate Name: Accessibility Inspector
Apple Web Page: UIElementInspector - Mac Developer Library
DOWNLOAD: UIElementInspector.zip (198 KB)
This zip file has the source code for the Inspector, but fortunately also includes the built app:

UIElementInspector.app, which is all you really need.

Just copy this app file to your Applications folder.
It is the same link as provided by the "Download Sample Code" link on the Apple Web Page
EXAMPLES OF ACCESSIBILITY INSPECTOR
For more details, see
A Strategy for UI Scripting in AppleScript using UIElementInspector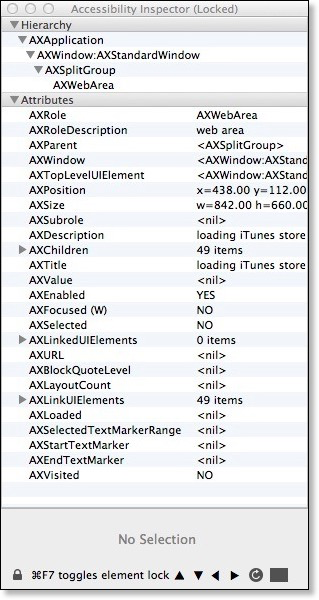 ---
OTHER TOOLS
If you need to do a lot of UI scripting, or work with a very complicated app, then you may want to consider a professional tool, like UI Browser. At $55, it is not cheap, but could save you many hours of development time.