I found the included macro 'Paste Selection Into Last Application' and it works perfectly between two applications. for example copying data from a PDF in adobe to chrome. I click the empty box in chrome, select the text in adobe, activate the macro and it auto selects chrome and pastes text.
my issue is that it does not work with two different chrome windows open. I often have two windows open from two different chrome profiles. I have tried all the available chrome variable and substituting them into the included macro and can't seem to find a variable that works. I'm looking for a 'Last active window' variable and it doesn't seem to exist.
Please advise as to how. I can make this work. I believe this will help a lot of people as well.
picture is of the working Macro I am trying to modify for my needs.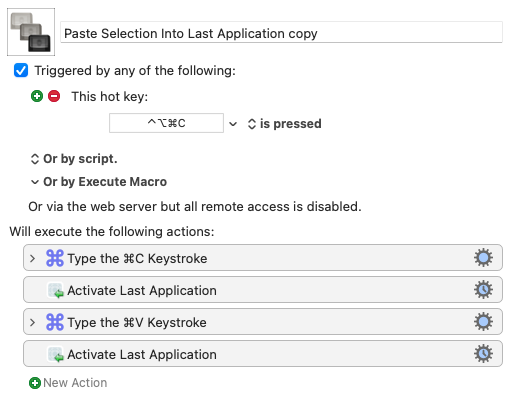 Thank you