Hello, all. I wanted to see if anyone could offer suggestions.
My problem is Filemaker Pro related but I'm using KM in my scripts and it's possible that KM is somehow causing the errors in its interaction with Filemaker, hence I'm posting here.
Basically, my problem: I've got a single flatfile database that I use to create 25 or so tweets to schedule for twitter every evening. Around six months ago or so I started getting periodic color wheels of death that lasted for 10-20 seconds, followed by a mysterious error that says, "Can't make <<data..." followed by a long string of garbage. I also get "an error of -25133 has occurred" or sometimes "Unknown error -1700." Neither of these errors appears in any guide I can find in any list of Filemaker error codes, for example this one.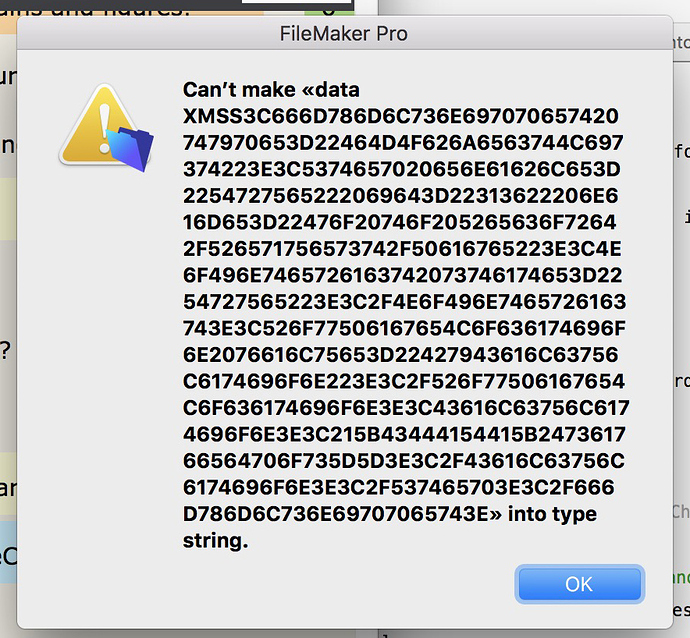 Whenever I get one of these errors, quitting and reloading the database in question makes it work fine for another 5-20 minutes. Sometimes the errors come more frequently (which is frustrating), and I find that restarting the computer makes them come less often for a while (or so it seems to me). The errors happen both in a shared Filemaker server situation or with the file stores locally on my computer. They happen pretty much the same in Filemaker 14 as well as Filemaker 16, which I recently upgraded to. If I let the Filemaker file stay open for a while, or if I sleep the computer then wake it up, I always get the -25133 error and have to quit and reload the database.
What I thought was that my years of bad Filemaker database habits, such as letting my file live locally in a Dropbox folder, had finally caught up with me and I had a serious corruption problem. So I rolled up my sleeves and recreated the database entirely from scratch, following my original, although I did copy-paste the scripts, which I'm maybe not supposed to do from a "database purist" point of view. The new file unfortunately gives the same errors as the old, making me think my problem isn't Filemaker corruption, but perhaps some interaction with KM.
Basically the Filemaker script does things like, take a time such as 10:30:00 and pass it to KM variables, then uses Applescript from inside a FIlemaker script step to pass behaivour to a KM script to complete each task. Sometimes KM gets data from a field with Applescript, and sometimes I'm using the clipboard, preparing the text I need in an Applescript inside a KM script then pasting it into my Filemaker field.
So my question is, has anyone ever heard of these kinds of errors in Filemaker (no one in any Filemaker group I asked in had), and do you know of any issues with KM and Filemaker, for example interacting with KM might cause a memory leak or something like that. If there are any Filemaker gurus here, any advice you can offer would be great too.
Thanks in advance for any help you can offer!