A ridiculously simple but useful macro.
I'm sure you are familiar with the delay when opening a Save or Open dialog and the connected external drives are firing up. Five seconds or so.
The "Put hard disks to sleep when possible" option in the Energy Saver prefs seems to only affect built-in disks, or, at least, not the disks I have connected.
So, this macro just "touches" a file on the volume of your external disk, with the purpose to keep the disk "alive".
Of course, you have to adapt the names of the volumes in the macro to the actual names of the volumes of your disks you would like to have kept alive. Also play around with the trigger interval.
To get the names of available volumes type ls /Volumes in the Terminal.
Keep External Drives Spinning.kmmacros (2.8 KB)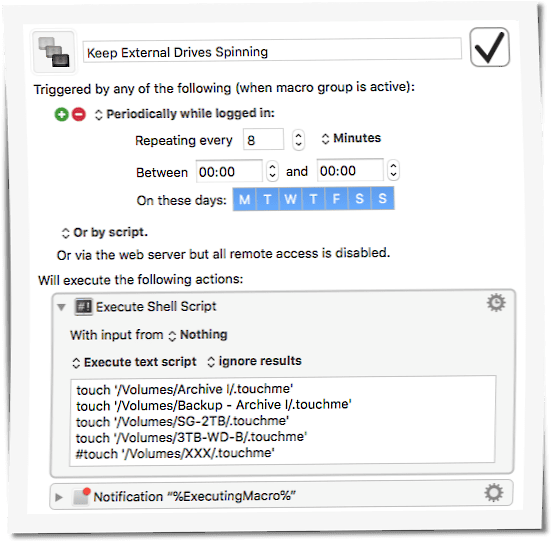 I have put the macro into a group of its own, so you can easily dis/enable it via the KM Status Menu while getting a feedback when doing so. Another option would be to put he macro into the Global group and create a dedicated macro to dis/enable it.
Disable the notification once you are sure the thing is working as expected.