Please don't knock yourself out on this one. I did figure out I could use my iMac (Intel) mouse and do an OK click and drag. I couldn't do the drag smoothly enough on the trackpad.
Trying to do a QuickTime "Screen Recording". During the recording I need to do a click and drag. But it happens instantly (well very very fast to be "precise") and I want the drag to be smooth for say 5 seconds. Can a drag be slowed down? It might be able to be done as a series of drags, but I can't imagine getting them accurately enough and I'd need about 100 steps, in other word, 100 drags which would require tuning. So I scroll (click and drag) from 6 am to 8 pm in steps of ten second each. I can do the scroll manually, but I'm not steady enough on a laptop.

I can get by with a fix for the above, the following are niceties for something I probably won't do very often.
I'd also like to automate starting the recording. But I can't get the click to start the recording. I recorded the click but doesn't work. I see a start in the QT dictionary, but I never could get AppleScript syntax. OK, I put in a pause and start it manually.
Better if there was a shortcut to start the recording, then I wouldn't have to click on a spot that may not always be in exactly the same place.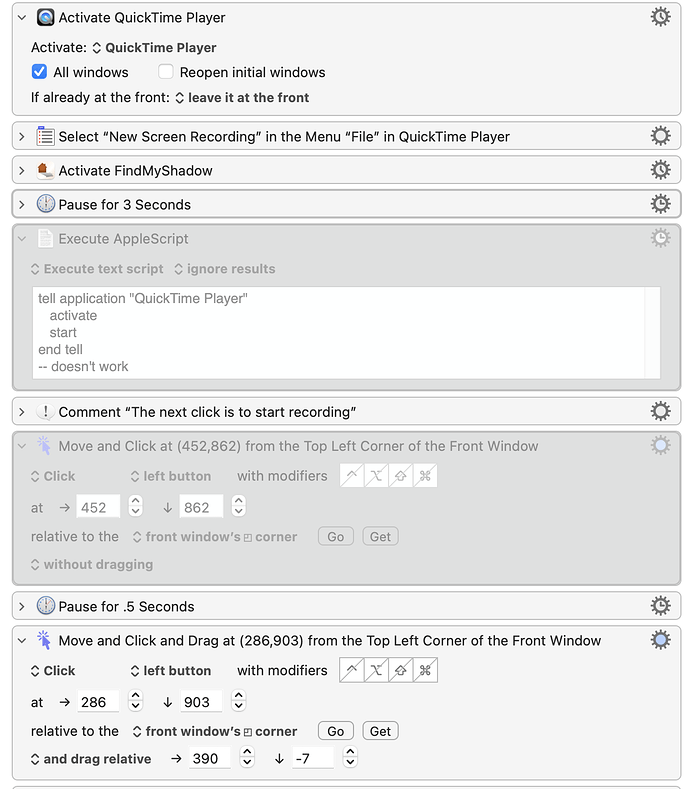 FindMyShadow is an iOS app to show shadows of building moving during the day.