@peternlewis
Recently upgraded to 10.1.1 - totally love all the new features!!!
Love all the new right-click contextual offerings.
Once again porting design flow from Pro Tools and other apps over to KM, I'll show a few screengrabs:
Here is right-click KM macros: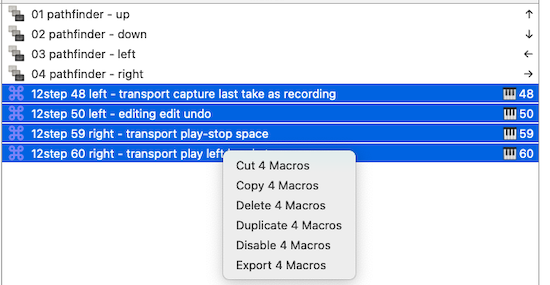 Here is right-click KM macro groups: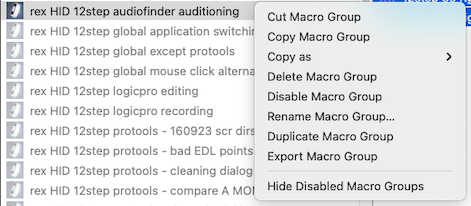 Here is right-click Pro Tools tracks, including divider scheme: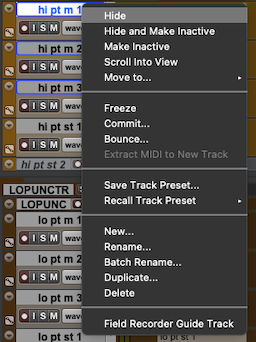 The purpose of this post is to suggest that KM right-click menus could be reordered for hierarchical importance/safety and also to visually delineate with dividers.
***** Because there are no hierarchical folder organization for Macro Groups, we do a LOT of enabling/disabling, so it would be good to have the enable/disable positioned at the top of the right-click menu, and not buried in the hard-to-see contents of the middle of the menu.
****** along the same thinking, the contextual (menu text changes with situation/context) menu for enable/disable should have an across-the-board bulletproof keyboard-shortcut so that we can automate enable/disabling without having to guess/manage what the GUI is reporting to us as the available enable/disable options.
MACRO GROUPS could look like: (enable/disable divided out to top, delete split out to bottom)
---
Enable Macro Group
---
Cut Macro Group
Copy Macro Group
Copy as
Rename Macro Group
Duplicate Macro Group
Export Macro Group
---
Delete Macro Group
---
whereas Macros could look like:
---
Enable Macros **** no mention of singular/plural or number reporting
---
Cut Macros
Copy Macros
Duplicate Macros
Export Macros
---
Delete Macros
---
.
.
...... this would help those of us with 100+ macro groups and thousands of macros immensely.
Keeping Enable/Disable at the top of the right-click (and giving very-easy Enable/Disable menu options) allows us to cope with lack of hierarchical sorting/foldering.
Placing Delete at the bottom of the right-click prevents accidental erasures (we're all working very fast). Thankfully, KM has a robust undo/redo system, but you could still delete in a frenzy and not realize it.
Hope this helps. And I do mean to emphasize all the other ways the app is improving.
As Stream Deck takes hold in audio post circles (like the new generation never heard anything of QuicKeys etc), I've been extra missionary zeal/fanboy about KM.
Cheers
k