Use Case
Make it Easy to Debug JXA Scripts written in Visual Studio Code (VSC)
In order to use the Safari JXA Debugger, we must first run the script from Script Editor.
Simplify this entire process of JXA debugging.
UPDATED: 2021-06-05 18:22 GMT-5
ADD Video showing how to debug without using Script Editor
Video -- Demo Using Safari JXA Debugger Directly From Visual Studio Code [VSC, vscode]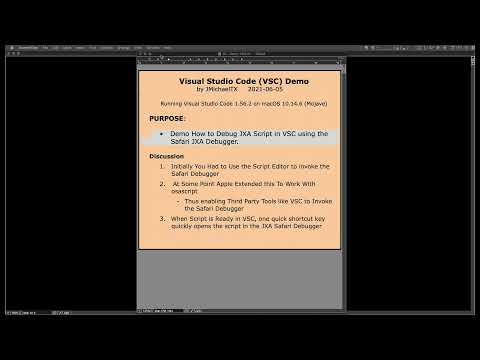 While the below macro works fine, I have now learned that we really don't need to use Script Editor to debug JXA with Safari.
~~~~~~~~~~~~~~~~~~~~~~~~~~~~~~~~~~~~~~~~~~~~~~~~~~~~~~~~~~~~~~~~~~~~
Video Demo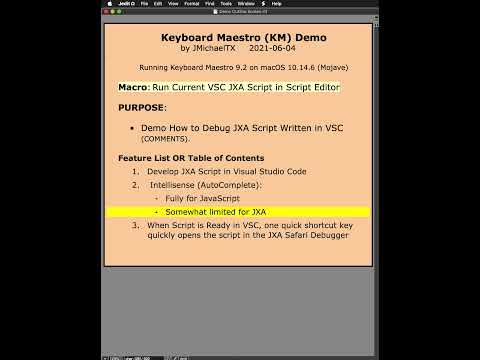 ~~~~~~~~~~~~~~~~~~~~~~~~~~~~~~~~~~~~~~~~~~~~~~~~~~~~~~~~~~~~~~~~~~~~
MACRO:   Run Current VSC JXA Script in Script Editor
-~~~ VER: 2.0    2021-06-04 ~~~
Requires: KM 8.2.4+   macOS 10.11 (El Capitan)+
(Macro was written & tested using KM 9.0+ on macOS 10.14.5 (Mojave))
DOWNLOAD Macro File:
Run Current VSC JXA Script in Script Editor.kmmacros
Note: This Macro was uploaded in a DISABLED state. You must enable before it can be triggered.
---
ReleaseNotes
Author.@JMichaelTX
PURPOSE:
Run Current VSC JXA Script in Script Editor

Debug Using Safari JXA Debugger
HOW TO USE
First, make sure you have followed instructions in the Macro Setup below.
See the below "How to Use" Comment Action
This macro is just an example written in response to your request. You will need to use as an example and/or change to meet your workflow automation needs.
MACRO SETUP
Carefully review the Release Notes and the Macro Actions

Make sure you understand what the Macro will do.
You are responsible for running the Macro, not me. ??
.
Make These Changes to this Macro
Assign a Trigger to this Macro .
Move this macro to a Macro Group that is only Active when you need this Macro.
ENABLE this Macro, and the Macro Group it is in.

For more info, see KM Wiki article on Macro Activation
.
REVIEW/CHANGE THE FOLLOWING MACRO ACTIONS:
(all shown in the magenta color)

Type ⌃⌘P -- Telll VSC to Set Clipboard to Path of Active File

Change VSC, or change Action to use your Shortcut
REQUIRES:
KM 9.0+ (may work in KM 8.2+ in some cases)
macOS 10.12.6 (Sierra)+
Visual Studio Code (VSC)
Script Editor
Safari
TAGS: @VSC @ScriptEditor @Safari @JXA @Debug